Guide to golf courses in France
New french golf guide
Helping you find the right golf course.
The latest Edition is since 2020 in large cardboard format and color of 400 pages. 735 golf courses of France present, region by region ALL the Services and Equipment of the 18-hole golf courses of France.
The only objective, neutral and independent golf ranking guide delivering from 1 to 5 stars for each chapter.
Chapters studied in this new 2020 edition: Course, Clubhouse, Bar-Restaurant, Après-golf, Teaching-Practice.
The simple and clear manual
Geographical location
Easy access to all golf courses ranked by the 5 major phone codes (01 to 05).
All 2020 information to quickly contact the golf reception to schedule your departures!
The Instructions in English
The only bilingual guide
Each golf card (double page for 5 stars, page for 4 stars, half page for 3 stars, quarter page for 2 and 1 stars as well as 9-hole golf courses, compact and practices ...) indicates the level of stars obtained for 5 categories (Course, Club-House, Restaurant, After-golf, Teaching). The many photos give even more information to make your choice according to your desires.
Search by region
Highlighting 5 and 4 stars in 2020
The Golf Stars 2020 guide shows the ranking of all golf courses 18 holes per chapter so you can make your choice at a glance according to your favorite criteria.
The 2020 edition highlights the 26 main 5-star courses and the 118 main 4-star courses.
Buy 29.95 €
Golf Stars, neutral, objective and independent brand is developed with the help of each ranked golf director.
Golf Stars is accompanied by the 5 national bodies representing golf.
Our Partners are aware of the major interest of having an objective and touristclassification of golf courses to guide and inform precisely the choice of golfers from all countries.

Acheter en ligne
Le guide papier
424 Pages
Format: 210 mm x 158 mm
Premium packaging
Secure payment

Buy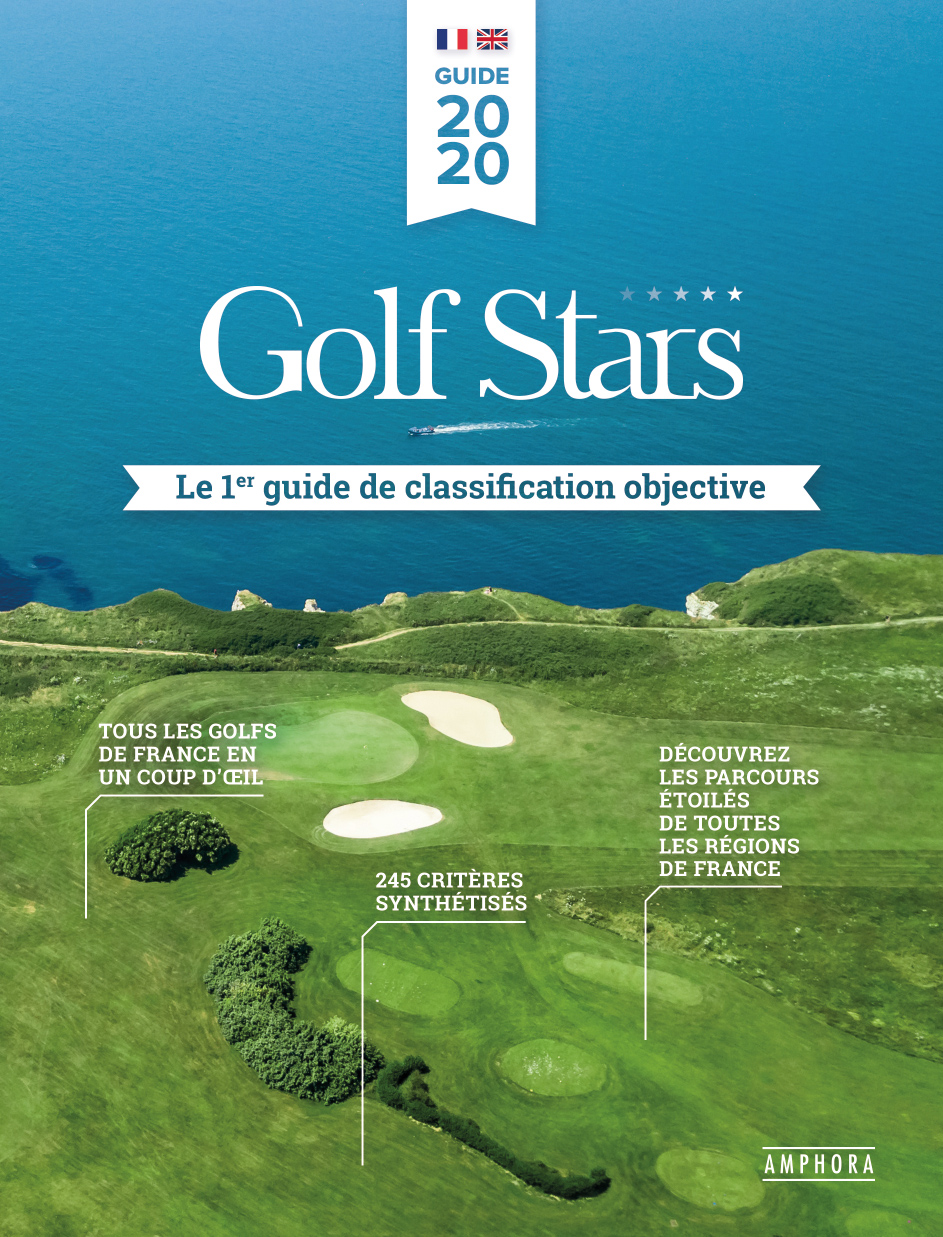 The GolfStars Golf Guide is objective, neutral, independent and uncompromising to discover and make up your mind about the 735 courses. In 400 pages and 5 regions, it offers the general and detailed ranking of French golf courses in response to your wishes or your desires of the moment.
Discover ALL the Services and Equipments of the golf courses classified in 5 regions of France,all the coordinates of all the golf structures in France, all the useful information to prepare your game. Full-color golf guide, cardboard cover, full index finger.
With a neat design, sober, in color and above all very clear in 400 pages, its format of H 210mm x L 158mm is like the reference guides like the Michelin Guide so that it easily finds its place in your car, on your desk or in your library.