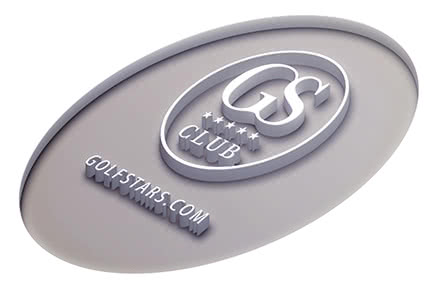 Become a member and enjoy...
Accumulated benefits and bonuses in the golf courses
Services exclusive to our partners
Discounts in many stores
Promotions (courses, stays, weekend...)
New themes
Sweepstakes monthly just for you
Discover the club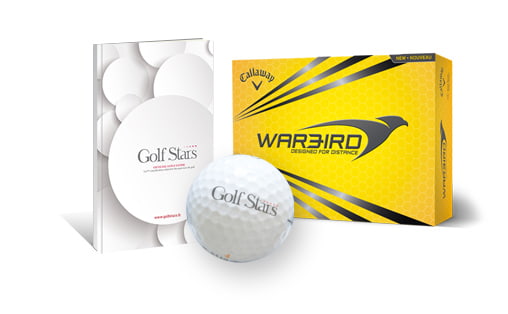 3 gift of welcome and the prestige prizes to be won each month.
Thank you, receive at home
Your luxurious metal, transferable membership card
12 golf balls Golf Stars 424 pages paper guide

Enjoy the monthly sweepstakes: travel, equipment, the weekend, rangefinders, high-tech or champagne are put into play (partners: Nikon, Jacquart, Odyssey, Callaway, Hotels & Preference, Relais & Chateaux, Cobra, Puma, Jabra, XXIO...)
Exclusive bonuses in participating golf courses in France
With the Club Golf Stars, get multiple bonuses and benefits in participating french golf courses. A growing list from week to week.
Find a golf course nearby with one of the following bonuses :
Combine more criterias with our search engine.
FITTING 75 OFFERED AT GOLF MORE

With GOLF PLUS, rediscover the pleasure of play through the fitting
GOLF PLUS offers all the members of the Club Golf stars a fitting (value € 75 no purchase necessary)

+ info

What is that the fitting? We bring? How can guide you and make your more simple golf?

To the diversity of brands that we offer, what is the way for us to help you make your choice?

For us at GOLF PLUS, a Fitting session answers these questions.

We are listening to you and we support you during your golf progress by offering you assistance similar to a pro on the circuit.

We will help you in your choice, regardless of your level of play.

Our goal is to make your sport easier to practice by optimizing the contents of your bag.

The Flightscope Kudu, from radar of military technology and space, we use, will analyze with great precision the speed of your club, your ball rotation rate and the angle of launch, as well as other synonymous performance data.

All these results will allow us to refine more than just tuning of your clubs.

Thanks to the Fitting, you will leave eliminated any doubts about choosing your material and we will have contributed to make your game much easier and efficient.

By appointment

Stores GOLF PLUS (list on GolfPlus.fr)

Fitting Center of Longchamp Paris 16th

Fitting Center of St. Cloud

NB: no documents will be provided at the end of the Fitting

CANDLES AND DIFFUSERS VEKKÄ

Atelier Vekkä, designs and manufactures in France candles and diffusers. Discover and order with a 20% discovery offer to feel at home at home. Code: GS23 on the website by clicking HERE




+ info

Discount code: GS23

THE VEKKÄ CANDLE AND DIFFUSER WORKSHOP

Products that make you feel good, at home. Products that we like to (offer) ourselves, inspired by the Swedish way of life and landscapes and French know-how and refinement.

Made with patience by women and men in different regions of France, all candles are made responsibly with love by passionate craftsmen with a unique know-how that embodies this art of French beauty so dear to Atelier Vekkä. Talented and creative craftsmen met over the months during a long sourcing work and selected for their expertise and technicality. Because everyone contributes, in their own way, to give life to the Atelier Vekkä adventure:

The container of candles and diffusers is made of porcelain in a workshop in Limoges labeled "Entreprise du Patrimoine Vivant", a prestigious distinction that rewards French craftsmanship of excellence.

Each pot is then meticulously decorated by Jean-François and his team in his screen printing workshop in Vendée. First imagined idea by idea, the fragrances were then entrusted to a Parisian nose, Karine Boudot. The perfumes have been made to measure, with raw materials of excellence, in the great tradition of perfumery of author. From the choice of raw materials, through the tests in the laboratory of our perfumer, to the waxing, many steps punctuate the birth of a candle perfume.

The fragrances are produced in Grasse, the French capital of perfume, before joining Yolaine's workshop in the Marais Poitevin, where the candles are poured by hand, following the strict rules of the art wax. The tempering of the wax is thus respected for a perfect blend with the perfume. The candles "rest" in the workshop until they crystallize at the heart for about a day.

The lids are made in the heart of Auvergne by Alexandra and her team from solid beech wood from local and sustainable forests.

The seeded paper disc supplied with each candle is handcrafted from 100% recycled raw materials. It is printed with eco-friendly water-based inks, and the seeds contained in the paper are guaranteed GMO-free.

The engraving is made to order in a Parisian workshop. Logistics are provided in the Paris region by us, without intermediary.

Your candle is burned? Transform it into an elegant interior diffuser thanks to the diffuser kit that will offer many hours of scented to your interior. (49€ only)

Hello Birdie, the app

Offer open to all! The monthly Hello Birdie app at only 9.99€/month instead of 15.99€.

Offer without commitment, valid for the first 12 months, cancellable at any time, reserved for new subscribers and not combinable with other offers.


+ info

Hello Birdie is the mobile application that automatically analyzes your golf profile from your data in real conditions on the course. It then offers you a realistic and optimal strategy in the form of a personalized journey book.

Thanks to its Artificial Intelligence, it allows you to develop the best game strategy for each course according to your real abilities.

It will replace your current golf app, and your GPS watch if you have an Apple Watch.

REMINDER OF HELLO BIRDIE FEATURES

Player profile: Predictions of distances and dispersions for each club, putting abilities and small game according to the profile

Strategy: Recommendation of the best tactics according to the real ability of the player, with calculations of the probabilities of success of reaching fairways, greens and a score target. The player can then refine the tactics hole by hole according to his desires, the probability of success is updated in real time.

Course book: personalized and printable, for an experience without the need to take out your mobile on the course.

Satellite plane and rangefinder: Possibility to point an element of the course on the satellite plane to obtain the distance to be covered and remaining to the green. Corrected Distances – depending on the difference in elevation, weather conditions... are also presented

Easy Shot-Tracker: Entry of scores and clubs played, without the need for connected plugs, with unparalleled ease and speed.

Economical GPS tracking: accurate recording of the player's track on the course to find the GPS positions of the shots played, and deduce the calculation of performance.

Statistics: automatic calculation of statistical performance after each round of golf.

100% standalone Apple Watch experience

Competition mode: to remove all features not allowed in official competition.

Convinced? Start your experience by downloading the free iOS and Apple Watch app from the Apple Store (very very soon for Android), fill in your player profile (distance to the drive, 9 iron, style of trajectories made ...) describe your bag and judge for yourself!

Customer support for any questions: support_fr@hello-birdie.com

PRICE ON NIKON RANGEFINDERS

Choose the right club and earn valuable points on the course thanks to NIKON RANGEFINDERS LASER COOLSHOT

+ info

Nikon, worldwide leader in precision optics, defined its own rule for the design of high quality products for golfers, to measure distances with extreme precision.

Ambitious in the field of golf, Nikon and its rangefinders Coolshot joined Alexander Levy, professional player of 24 years, Top 50 global, whose passion, talent and the requirement correspond to values that carry the brand forever.

New COOLSHOT for extreme accuracy on the green!

Able to measure a distance up to 590 meters, COOLSHOT 40 and COOLSHOT 40i rangefinders are unprecedented lightness.

The rangefinder COOLSHOT 40 is designed exclusively to measure the actual distance and can be used in the competitions allow the use of a laser rangefinder.

The 40i COOLSHOT rangefinder integrates slope compensation, which indicates the actual distance offset (± height horizontal distance). It is particularly hilly golf courses.

Public price

· Coolshot 20: 209 Euros TTC

· Coolshot 40: 299 Euros TTC

· Coolshot 40i: 369 Euros TTC

Rate Member Golf Stars: contact us at 01 60 12 00 00 or by e-mail (info@golfstars.fr) to know the member price. Free shipping metropolitan France

Shipping by Nikon under a month (depending on availability)

Relay & castles the blue hour

Like a Pearl in a case of emergency, the time Blue Palace welcomes you in Essaouira (Morocco)
In the heart of the Bay of the old Mogador, this Palace has the well-being of its guests watchword.
Members Golf Stars, welcome to this superb riad relay & castles!

4 nights € 300 / night € 1200 / person in room luxury
4 nights € 400 / night € 1600 / person in Suite
includes: 1/2 Board - golf - drinks - 1 Spa treatment

For members of the club Golf Stars from November to March
4 nights + 2 nights free

From April to October
4 nights + 1 night free




TROLEM, electric golf cart T. KLINE

TROLEM, 40 years of expertise in the electric trolley. A recognized after-sales service.

Order one of the 4 leading models in the GOLFSTARS SHOP

Member of the GOLFSTARS CLUB, benefit from:

Tight price at the best price on the market
+ Free delivery in metropolitan France
+ 1 red bag towel ( 22€)
+ 12 Callaway balls logoted GolfStars (49€)


Golf courses in Andalusia with Michel Delbos

-10% on his golf development courses in France or Andalusia with Michel Delbos, 40 years of teaching and Master Pro.
Club members and GolfStars subscribers only

+ info

Whether you are a beginner, confirmed or high-level player, the goal of my teaching is to help you build a more regular game from precise benchmarks that will bring each of you pleasure, regularity and performance according to your investment.

My courses therefore promote an evolution at your own pace by helping you build a stable and regular swing that will allow you to have consistency in your game regardless of the courses you face.

TROLEM, electric golf cart T. FALL CAN

TROLEM, 40 years of expertise in the electric trolley. A recognized after-sales service.

Order one of the 4 leading models in the GOLFSTARS SHOP

Member of the GOLFSTARS CLUB, benefit from:

Tight price at the best price on the market
+ Free delivery in metropolitan France
+ 1 red bag towel ( 22€)
+ 12 Callaway balls logoted GolfStars (49€)


Trolem, electric trolley Pro Feel remote

The comfort of play with an electric truck Trolem, leader in 40 years.
Get gifts and discounts on your purchase in the shop Golf Stars

TROLEM, ENOX electric golf cart

TROLEM, 40 years of expertise in the electric trolley. A recognized after-sales service.

Order one of the 4 leading models in the GOLFSTARS SHOP

Member of the GOLFSTARS CLUB, benefit from:

Tight price at the best price on the market
+ Free delivery in metropolitan France
+ 1 red bag towel ( 22€)
+ 12 Callaway balls logoted GolfStars (49€)


The Golfers' Bazaar

Pitch lift, ball mark and tee bag offered for any purchase over 50 euros on the Proshop of the Golfers' Bazaar with the code CLUBGOLFSTARS

+ info

Sell, buy, deliver, receive, travel, meet, play... The Golfers' Bazaar opened its site on May 6th to welcome everyone safely and without constraint. No doubt you will sign up to sell what will do the business of a new owner!

Bonus: Pitch lift, ball mark and tee bag for any purchase over 50 euros on the Proshop of the Golfers' Bazaar with the code CLUBGOLFSTARS

About golfers' Bazaar

Quite the opposite of a bazaar, the Golfers' Bazaar and its new online platform connecting golf enthusiasts for the purchase and sale of used golf equipment and nine turnkeys is summed up in a simple and unique concept to consume without moderation: The greatest choice of opportunity at your disposal: buy, sell, play with ease.

The Golfers' Bazaar allows you to safely purchase your golf equipment. You buy your money is confined to an ultra-secure account, you receive your product, you are satisfied, your money is paid to the seller. Are you selling? Drop off your ads for free and enjoy the full visibility of the Golfers' Bazaar (1000 daily golfing visitors). The sale made, you send free by our delivery services.

Once validated, the amount is transferred to a dedicated account. Do you like an announcement? Put it as favorites. Want more information? Exchange via built-in messaging with the seller. Want to make an offer? Offer your price directly to the seller. Want to test the hardware? This is possible with the "Test" option. Do you want to be delivered? 4 means of delivery at your disposal. Do you want to be rewarded for your loyalty? Discover our benefits and get discounts. Find all its services by creating your account on The Golfers' Bazaar.

For more information by email at: info@lebazardesgolfeurs.com

Have a good visit to lebazardesgolfeurs.com

20% IN NORTHERN FRANCE, ITS SAUNAS, SPA AND HAMMAM

Get 20% on all spa, sauna or hammam of their brands.

+ info

Undisputed leader for 40 years in the field of well-being with its range of spa, saunas and hammams, NORDIQUE France offers exclusively to members Golf Stars 20% on all spa, sauna or hammam of their brands.

Skills:

-More than 40 years of experience - a guarantee of reliability - a comprehensive solution: sauna, hammam, spa - more than 15 000 facilities since 1973 by individuals and professionals - tips and custom quote - standard or Custom - Installation and service by technicians Northern France

Hotels & Preference you outperforms and welcomes you in VIP

Castles-boutique hotels, from boutique hotels for stays in Room 4 stars. Book a weekend of charm, golf or spa packages.

+ info

Upgrade to a higher category *.

Late check-out (your room is available until 3 pm) *.

VIP (little attention in room) welcome

* On request and according to availability on arrival at the hotel

https://www.hotelspreference.com/

ECTOR, your valet parking. 20% discount on your first booking

A key-hands practical solution for golfers on their travels.

Even more convenient than a taxi or a private driver, Ector saves you time and saves up to 70% of the price of a classic parking.

Often overburdened by their equipment, golfers will find in this key - hands solution a good plan to travel safely.

+ info

Ector offers motorists to take over their vehicle drop-off stations and airports, parking in a parking lot and restore them to the drop-off

With a few clicks only, you can order an Ector Valet who will welcome you at the drop-off from the airport or train station of your choice. The price is attractive compared to conventional alternatives of access to train stations and airports, service and more.

Ector options also different washing and maintenance of your vehicle for a spotless reunion the day of your return.

• 8 service areas: Roissy CDG, Orly, Lyon Saint-Exupéry, Nice Côte Azur, Gare de Lyon, East, Gare du Nord station, station Montparnasse and soon Toulouse and Nantes

• 50 parking attendants at your service

• Up to 70% cheaper than conventional parking

• 92% of customers recommend actively Ector relatives

CHRISTIAN CÉVAËR

Christian Cevaer, the "Maestro of the short game" joined the Club! Get valuable advice.
Individual: €120 / hour + 30 minutes available to members
Duet: €120 / hour
Reservation required


+ info

Christian Cévaër Green Academy, the "maestro of the short game" transmits to amateur players as well as professionals unique know-how.

You also progress in contact with the best putter of the 2004/2005 European Tour, discover a simple and accessible to improve methodology and perform!

"Christian was one of the best in the world to the small game and putting."

Analytical, educational qualities and its more than 20 years of experience make him a great coach.

Go to progress! "Jose-Maria Olazabal

Christian please visit: http://www.christiancevaergolf.com/

Marina Sea Food,

https://www.marinaseafood.fr/
MARINA SEA FOOD
69 GEORGES POLITZER AVENUE - 78190 TRAPPES
Tel: 01 73 12 01 19
Email: contact@marinaseafood.fr

Since 1975 and from father to son, Charles MISRAHI (index 7) delights our taste buds with his fresh or smoked salmon directly from Scotland and Norway, not to mention his caviar and seafood.

An ultra-modern manufacturing and smoking workshop is located in Trappes (78) and offers exceptional quality at direct import prices without ever neglecting quality and service.

"Industrial Artisan" wholesaler at the service of the best tables in France, hotels and caterers attached to these values place their trust.

In December 2020, he opened an online shop to have his products delivered in a time-fresh directly to you in the four corners of France, enjoy it!

A price for Golf Stars subscribers? Don't bother because check for yourself, a quality smoked salmon is around 95 euros /kg. At Marina Sea Food... 55 euros/kg and sliced hand please!

More than a name it is a brand, a label, a guarantee of quality and know-how and authenticity.

Becoming a customer means staying that way!

+ info

At Marine Sea Food, find:

Scottish Smoked Salmon

Scottish Smoked Salmon Sliced Hand

Heart of Scottish Smoked Salmon

Unsliced Scottish Smoked Salmon

Scottish Smoked Salmon Back

Norwegian Smoked Salmon

Norwegian Smoked Salmon Sliced Hand

Unsliced Norwegian Smoked Salmon

Heart of Norwegian Salmon

Back of Norwegian Smoked Salmon

Scottish Smoked Salmon Hide

Norwegian Smoked Salmon Hide

Caviar Schrenkii X Dauricius

Caviar Osciètre

Tarama (5 products including cviar, truffle, sea urchin, espelette...)

Salmon Eggs

Frozen:

Crustaceans including the fabulous CREVETTE BLEUE (Obsiblue)

Shells

Fish

GOLF STARS OFFERS YOU YOUR ADVERTISING

Promote your business with golfers.

+ info

You're talking to the general public by offering products or services? you want to directly reach a target sought such as golfers? Your membership offers you the opportunity to put you ahead for free on the website and the social networks contacted by Golf Stars. You will be published in the "news" of the site, on Facebook and Google.

WINE & gifts, 7% discount and free shipping

www.vinsetcadeaux.fr: the site of online sale of wines, champagnes, spirits and spirits partner of Golf Stars. Serious and professional guaranteed by Golf Stars.

Learn 1700 references in stock, their performance of delivery and shipping services.
Delivery offered from €200 purchase.



+ info

A significant discount for the whole year 2016 you is granted on the site of online sales for all Member Golf Stars by entering a code of reduction of great vintages, the most prestigious houses of wine and champagne together on a site that is easy to use with real professionals at your service.

A hotline exists to answer your questions and guide you in your choices.

An Ekomi 'assessment of their customer' rating of 4.6 / 5!

The site also offers the wine news, picks, glossary of wine, a space business, the possibility of logoter your bottles to your colors...

Waterbed, 2 years of free maintenance and a cushion to Mediflow water offered

Waterbed, waterbeds against back pain.

After golf's chronic back pain? Would that not be your conventional mattress, which is also the cause?

+ info

Offers members: 2 years of free maintenance and a cushion to Mediflow water offered.

Have you ever thought to bed to water? The water mattress fits exactly to your body shape and your weight.

The pressure distribution is much better compared to a conventional mattress.

In addition, the gentle heat of the mattress and the lack of pressure on the spinal column points are major assets for a good night's sleep after your round of golf.

And you will be amazed at the price offered, not more expensive than a good classic mattress... for a better life!

Tel: 09.63.04.29.89 - info@waterbedfrance.com

www.waterbedfrance.fr

Nicolas Wrona, PGA professional

Benefit from the experience of an ex-player of ALPS, CHALLENGE and LAS AMERICAS circuits!
Teacher and golf coach
DEJEPS club coach graduate and professional patent BPJEPS - former player of the circuits, Challenge Tour, Alps Tour, Tour De Las Americas

+ info

Courses in individual or two students:

1 hour € 60, receive 30 minutes more

5 hours of classes at €285: 2 hours offered more and your free video analysis

10 hours of €540: a course with 9 holes available (€150) and 2 videos analyses offered (the green-fee extra price)

Group classes

From 3 to 6 people, €25 / person / hour: a collective journey accompanied by Noisy the King offered course (Green fees extra)

Along with course (Maximum 3 people) and Green fee plus:

9 holes for €150: an individual one hour class offered

18 holes for € 240: analyzes aspects of game video + two courses individual one-hour offered

Internship-day at the PGA Golf of Vaudreuil (27-Eure) route accompanied by (green fees 18 holes included), technical work to the practice (practice balls included), analysis video, breakfast included: € 249 instead of € 370

12 Srixon balls offered by the gardens of the aulnaie

Book a guest room at 1 West Paris to the gardens of the Aulnaie, rooms of hosts of charm

+ info

At the heart of the Valley of Eure, 1 h from Paris, 45 minutes from Rouen, 2 available, comfortable guest rooms, in one of the oldest houses in the village, entirely renovated in the respect of the constructions of the past.

You will enjoy the large and quiet landscaped park of 1 ha, its wide variety of flowers and trees, its very "impressionistic" water feature and the water course that marks the limit.

Our garden has been awarded by the Association regional of Parks & Gardens of upper Normandy.

You can relax and relax in loungers in the garden, the reading room or the large living room with fireplace.

There are 7 golf courses in a radius of 30km.

And you will not miss the visit to the gardens of Claude MONET in Giverny, 30 minutes from the House.

Details, photos and booking on http://aulnaie.com

PROMOTION for 2 consecutive nights on presentation of the card member GOLF STARS: 1 box of 12 SRIXON balls

€10 offered by hour lesson with Jean-Philippe GREENHOUSES

You can find me in the wood of Boulogne-Hippodrome de Longchamps golf, golf to Etiolles, le Vaudreuil's Golf short Academy and the Senate.
40 euros the hour of lesson instead of €50 for the members of the Club Golf Stars.

Jean-Philippe GREENHOUSES uses all the tools related to the teaching of golf and specializes in small game and especially putting (diploma of several Academies of game including Dave Pelz).


spa Soleilla, Chateau l'Hospitalet

Château l'Hospitalet Wine Resort, Beach & Spa - Upgrade and VIP welcome

+ info

15% discount on your lessons with Long Fairway Coaching

15% discount on the individual courses and duo
15% on initiations and green card forms.
10% on the Coaching packs

+ info

Loïc Ferrent remains firmly convinced that there is a swing for all of us: women, men, small, large, thinker, observant...

Teaching is a puzzle made of multiple trial and error.

This is not for you but for your coach to play this role of researcher and offer you the solution. Your solution.

Discover you, play your swing and dominate.

Contact LOÏC FERRENT, your golf coach including your number of Member Golf Stars on the back of your card.

Mobile: 06.67.50.04.27

e-mail: longfairwaycoaching@gmail.com

Restaurant Invictus

Your next dinner between golfers, champagne! Whether you're 2 or 20, the champagne is waiting for you!

+ info

Discover the cuisine of Invictus, the new restaurant of Christophe Chabanel in the 6th District.

Christophe, passionate of golf offers a truly sensational cuisine. A vital impetus that the Chief is please to share in her chic Bistro in the name inspired by his latest culinary adventure in South Africa. Take the time to decipher, to desire these dishes prepared with skill, like the stew of lamb and juice Red curry or the famous warm millefeuille of vanilla pods.

Two steps from the Montparnasse tower and the Luxembourg Garden.

The dining room is bright and comfortable.

Book! (Monday to Saturday 18:30 to 23: 00)

5 Street Sainte Beuve - 75006 Paris

Tel: 01 45 48 07 22

Web site: http://restaurantinvictus.fr/fr

Up to € 145 gift for your jacket, pants or tailor-made suit

At home, the office or the showrooms of Paris or western suburbs, suits, coats, golf pants, shirts and fashion accessories created by hand and made to measure!

+ info

By Mr reinvents the made-to-measure clothing.

Specializing in clothing of players in golf for more than two years, our team of passionate tailors offers a choice of fabrics selected from the largest Drapers of the world (Loro Piana, Vitale Barberis Canonico, Dormeuil, Holland & Sherry...).

At home, at the office or in one of our two showrooms in Paris and its suburbs, our tailors take the time to listen to you, to analyze your body and to offer you the best combination of materials, colours and parts to make your garment to your liking, but also to your image.

Costumes, coats, golf pants, shirts, or even fashion accessories are created by hand and made to measure in our workshops to Assisi, Italy, to offer excellence and know-how of the transalpine confection.

After our appointment, we make your unique pieces and deliver to you within 4 to 6 weeks before you make the final touches to a perfect outfit.

Beyond expertise, experience By Mr is also and above all a human and ultra-personalised adventure. All our customers benefit throughout the life of the product of listening for adaptability and customer follow-up in line with your requirements.

Thanks to the partnership with Golf Stars, you get an exceptional offer including three accessories of your choice offered (among our range of bowties, neckties and scarves) for all creation suit tailored from € 890.

Gift to the choice: node Pope: hand made; Choose from our 3000 fabrics €145

Tie silk Italian €85

Scarf in cotton casual €55

10% offered at sower of stars, one creator of the walls & ceilings star - made in France

Sower of stars creates exception lights. Chandeliers, ceiling and walls become living sculptures luminous, so delicate they seem.

receive 10% discount for any purchase over 1500

Workshop, 21 avenue du Général Leclerc - 78220 VIROFLAY (by appointment) 01 77 78 77 78 - www.semeurdetoiles.fr

+ info

Light is essential in a space: the aesthetics of the place and for the happiness of its occupants.

For you who are tired of ordinary lights, sower of stars creates exception lights. Chandeliers, ceiling and walls become living sculptures luminous, so delicate they seem.

The light plays with the materials worked by hand in a new way: glass, Crystal, porcelain, brass. Our specific work on the light - we shape as a material - results in forms and new light effects.

In dialogue with you, we design and manufacture for you a unique piece, according to our ideas or based on your sketches. Our prestigious clients and our awards show the excellence of our achievements.

The Ambassador of the senses

From €190 purchase of caviar > shipping in fresh chrono + a bottle of champagne Paul Dangin in gifts
Discover the products of exception on the site: http://www.arnoroch.com

Manage your cocktail for your guests

Don't waste more time, book your cocktail party at home with our prestigious partner "Ambassador of the senses".

Selected products - Premium
Caviar, Pate, smoked salmon, truffle, exceptional meat... Cheeses... Pastry...
Animation, service and preparation on site
Nectars and espresso

Organization - delivery - Butler service - small material of service



+ info

From 20 people - exclusively in the Paris region

Excluding alcohol formula

Public rate: €85 all inclusive / person

Golf Stars member rate: 78 euros all inclusive / person

+ a gift to guests (1 bottle of champagne + 1 box of 20g caviar)

Special game

Exclusive! Take a small play (wedge or putting) with Long Fairway Coaching course and receive your club (wedge or putter) custom
Full pack game: €270 + 12 Srixon AD 333 balls offered by Golf Stars!

+ info

Pack small game: €270 + 12 Srixon AD 333 balls offered by Golf Stars!

-customer reception, Exchange and coffee.

-30 min fitting wedge.

-1 Cleveland wedge custom choice.

-an hour of small game in a situation with bullets of game (Srixon AD 333).

Provide total 2 h for the time of the coffee and the quality time!

The pack is possible with the putting. (FYI putter Huntington and TFi from 99€ to €199).

Fitting wedges:

Study of your swing, your body and your equipment to several parameters:

-speed club

-angle of attack

-action of the hands

-size of the player

-size of the arms and hands...

-hardness of the ground most often played (soft, hard)

-Loft of the club series...

This allows to create a club tailor made (more than 20 configurations):

Bounce: V - LG V - MG V - FG (8 ° to 14 °).

Loft: 46 ° to 64 °.

Shaft: KBS, Nippon, True Temper, Miyasaki...

Size: Adapted a morphology and the game system.

Grip: Golf pride and Lamkin all sizes.

Laye: 1 to 3 layers.

Fitting putters:

Here again the morphology and the game system come into account.

Determination with which of the three systems the player is the most comfortable:

-Pelz (online game)

-Swatch (System in an arc)

-utley (hybrid system)

This determines the balance of the putter:

-counter balance - balance - standard face...

Adaptation of the size and the grip.

Range 2017 Cleveland TFi

up to 10% on the purchase of a scooter (new or used) and golf gifts!

A gift to choose among a wide range and store up to 10% on the purchase of a new scooter or used at Adventure Scooter

+ info

Golf friends,

Welcome to adventure SCOOTER PIAGGIO VESPA GILERA MBK APRILIA dealer for 26 years at Issy les Moulineaux and doves.

You will discover a space dedicated and tailored to your needs with new and used vehicles, accessories and all of our customized services.

Guided by a team of enthusiasts, also discover our promotions and our good plans.

In welcome offer, we are pleased to offer you a gift to choose in store among a wide choice: CAP, polo, golf balls, various driver and scooter accessories...

as well as discounts up to 10% on the purchase of a new scooter or used (* see conditions in the store)

Rémi Bertoche, painter of golf

Rémi Bertoche is inspired by his experiences between his travels and encounters with celebrities (he painted on stage with Mathieu Chedid and Keziah Jones, or Lenny Kravitz, "M" produced paintings for Christophe Lambert, Clint Eastwood and Sean Penn, in) given the brush to Rory Mcilroy and Darren Clarke, Tiger Woods and David Hasselhoff...

Exclusively for members of the club:-20% from order on his website directly specifying Golf Stars

His site: https://www.remibertocheart.com/store

His e-mail: remi@bertoche.com


+ info

Biography

Rémi Bertoche was born December 21, 1977 in Biarritz, France. After having practiced since his youngest age and 10 years surfing as a professional on the world tour WQS, he left the world of competition to embark on the creation in 1998. Creator of Freegolf Mag magazine in 2005 and in 2010 Freesurfing magazine in 2006, co-founder of the "Salon of the sliders" renamed to "Taking" in 2011, Rémi Bertoche book several books on 'his' world (3 books self-published 180 pages cover rigid + jacket, translated and distributed in Europe, the USA, the Japan, Australia and South Africa), but he also works on art projects for prestigious brand (Bvlgari, Corum, Puma, Carlton Cannes during the festival of the film etc...).

Success is always at the rendezvous, the artist is now different facets that make him one of the most sought in the field of creation and the "live painting". Rémi Bertoche happens live in luxurious places of the world (official artist of the S.AS. Prince Albert of Monaco, of the King of Bahrain or the Royal family of Morocco Golf Trophy Hassan II etc...) Drawing on his experiences from his travels and meeting with celebrities (he painted on stage with Mathieu Chedid and Keziah Jones, or Lenny Kravitz, "M" produced paintings for Christophe Lambert, Clint Eastwood and Sean Penn, held the) brush to Rory Mcilroy and Darren Clarke, Tiger Woods and David Hasselhoff...

Rémi Bertoche is a fighter, a nomadic artist looking for inspiration in the heart of the icebergs (or it will look to surf waves) takes a new look at figurative painting: use of large format, (including its famous blockhouse or he realizes some) works with a small brush on 500 m² in size) marked contrasts, bright colors and unusual point of view. Inked in popular culture, his style adapts to the projects, he likes telling style makes a work, but he often prefers the story that goes with... In the field of Golf, Remi to work live 5 x to the HSBC Golf Championship in Abu Dhabi, 3 x to the Open de France, 4 x at the Qatar Masters, the World Amateur Tour, has the invtational of Rory Mcilroy at the invitational to Darren Clarke in Sardinia, at the Lacoste Ladies Open sales other... He has conducted regular customization of bags, shoes and caps of the players on the European tour.

€ 240 LESSONS OFFERED AT TRIANGULAID

Sign up for a stage at "Stéphane Bachoz" in Villiers sur Marne (94) or Noisy Le Roi (78) and take advantages of our exclusive offers.

+ info

€25 discount on a collective course of 3 h 30 (€115 instead of €140).

€160 discount on the package from 10 current collective (€160 instead of 320)

€240 discount on the package of 10 individual current h (€400 instead of € 640)

18 holes with a pro Triangulaid: €400 instead of €700 - green fees included - can move by adding living expenses

"Remove the bag rocks!" is the motto of Stéphane, using this educational approach which is based on how we walk. Triangulaid® is a unique learning method that allows everyone to do his own Swing natural while respecting benchmarks reliable Techniques.

All year by appointment, Stéphane and his team offer courses on the topics of your choice: full Swing, driving Preferences, Zen Putting, chipping, special moves, golf course accompanied.

20% ON THE ART OF CLAUDE RODRIGUEZ PHOTOS

Claude Rodriguez offers celebrities Golf members 20% discount on first order

+ info

He is known and recognized for 40 years for its incredible panoramic photos that sublimate our golf courses. With his different eye, he knows patiently wait for the magic moment of dawn or dusk seconds to capture the light.

Claude Rodriguez offers celebrities Golf members 20% discount on first order from the artist.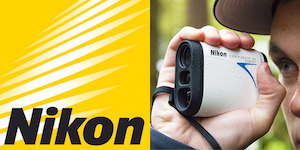 Our sweepstakes
Upcoming draws