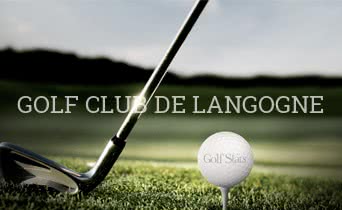 Courses
Ratings
Rates
Reviews
Book
Map + Leisure
Weather
Competitions
The golf club of langogne is a golf 9 holes. His main course, area of bars is a par 36 5296 meters. Open since 1995 in the municipality of Langogne, 48 - Lozere.
Address

Domaine de Barre
Route de Mende
48300 LANGOGNE


Phone

04 66 69 01 11

Email

contact@golf-langogne.fr

Website
Architect(s) :

Thierry SPRECHER

Opening date of the club :

1995
Book
This golf course does not allow you to book online.
Course
Domaine de Barres
Par 36 - 5296 meters
Ratings
Better TO INFORM, better CHOISIR, better PLAY! Check out all of their Services and Equipment for each golf course
This golf course is not yet rated
Weather
Competitions
No amateur competitions open to the public scheduled for this day
Golf courses nearby
48800 VILLEFORT

Distance : 32.66 km

Catégorie Golf 9 trous, Average rates : 22.5 €

43000 CEYSSAC

Distance : 35.61 km

Catégorie Golf 9 trous, Average rates : 30 €

07120 GROSPIERRES

Distance : 48.81 km

Catégorie Golf 9 trous , Average rates : 19 €
All Reviews on GOLF CLUB DE LANGOGNE
To give your opinion on for this golf course, you need to log in or subscribe