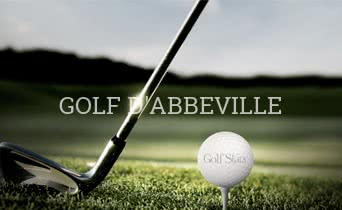 Courses
Ratings
Rates
Reviews
Book your french Greenfee
Map + Leisure
Weather
Competitions
The golf of Abbeville, open since 1989 and located near Abbeville the capital of Picardy, offers an 18-hole, gently undulating, with a length of 5709 meters (par 71). Its rural and peaceful environment will seduce you, just like the technicality and the diversity of the holes that you will make progress.
Address

Route du Val
Grand Laviers
80132 ABBEVILLE
France

Phone
Architect :

Didier FRUCHET

Opening date of the club :

1989
Informations
Find easily all informations of golf course.
Parking and Access
Rates week B.S / week end H.S
Not disclosed
Book your french Greenfee
This golf course is not yet part of our Reservation Center, thank you for your patience
Golf trip
Plan your next french golf vacation with #1, Golf Autour du Monde, Gallia Travel
Quote request
Course
La Chouette Hulotte
Par 71 - 5709 meters
Ratings
Better TO INFORM, better CHOISIR, better PLAY! Check out all of their Services and Equipment for each golf course
This golf course is not yet rated
Weather
Competitions
No amateur competitions open to the public scheduled for this day
All Reviews on GOLF D'ABBEVILLE
To give your opinion on for this golf course, you need to log in or subscribe