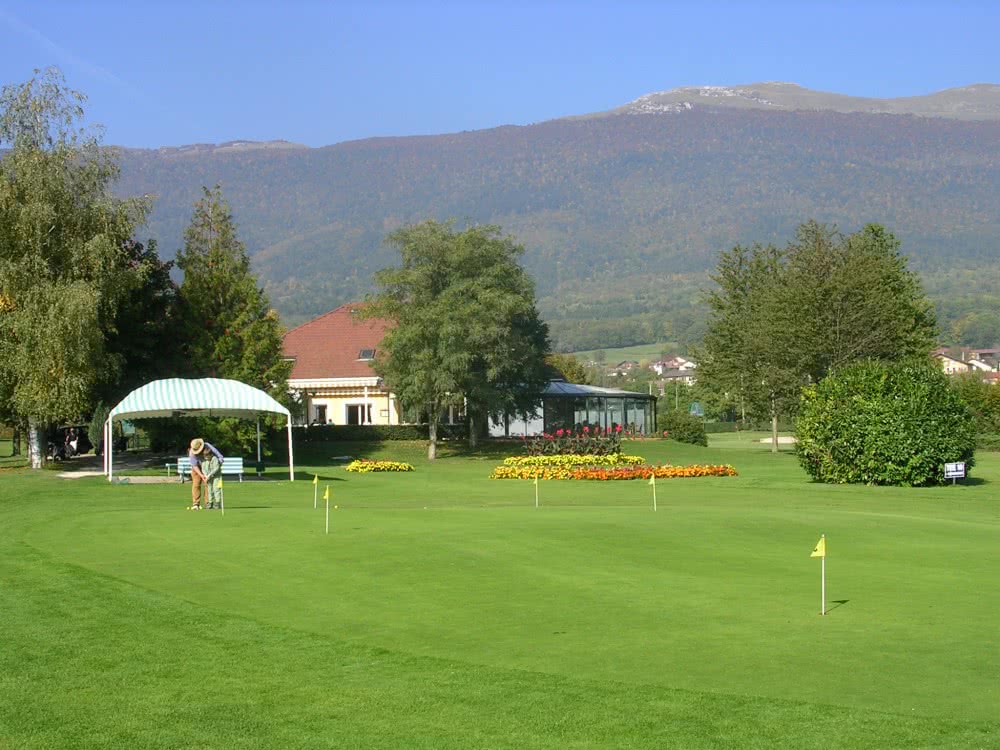 Courses
Ratings
Rates
Reviews
Book your french Greenfee
Photos
Map + Leisure
Weather
Competitions
Gonville golf course is a golf course 18 holes opened in 1989 in the town of St.-Jean-de-Gonville, 01 - Ain.
His main course, Gonville is a par 67 4715 meters.
The Golf Club of the area of Gonville, 3 star Golf Stars, located at the foot of the French Jura, is seemingly easy and enjoyable to play.
There are however a few traps that makes it very interesting.
A nice place to associate pleasure of golf and tourism.
Address

Route des Chênes
01630 SAINT JEAN DE GONVILLE
France

Phone

Email

gonville@aliceadsl.fr

Website
Architect :

Jean MANTILLERI

Opening date of the club :

1989

Number of practice stalls :

30

Number of covered practice stalls :

10
Informations
Find easily all informations of golf course.
Course
Open year-round
Course without nuisance
Space cleaning multi function
Quick game week
Quick game weekend
Rental clubs
Fast Greens in season
Wooded path
Flat course
Club-House
Access PMR
Free WiFi
Green fairy flexible rate
Bar restaurant
Non-stop bar in season
Snack continuously
Practice teaching
Parking and Access
Near station
Near Highway
Secure parking
Rates week B.S / week end H.S
26 € - 48 €
Book your french Greenfee
This golf course is not yet part of our Reservation Center, thank you for your patience
Golf trip
Plan your next french golf vacation with #1, Golf Autour du Monde, Gallia Travel
Quote request
Course
Gonville
18 holes - Par 67 - 4715 meters
Ratings
Better TO INFORM, better CHOISIR, better PLAY! Check out all of their Services and Equipment for each golf course
Golf Course
Everything you need to know about the course
Architecture
Open 363 days per year or 7/7 in season
Open for more than 30 years
Centennial
Specific golf course (links, inland, wooded...)
Particular sports interest
Course entirely built on sandy soil
No trains, planes, routes, lines HT, industries, homes close...
The game
Starter the weekend
Marshall on weekend
Open at least 5/7 to outside players
Cadet
Signage in good condition
Signs of access to the next tee
Signs of drawing for each hole
Bench on each tee
Trash of each hole
sandpatching
Ball cleaners
Compressed air to clean the shoes
Cleaning area (shoes, trolleys, clubs,...)
Ranged markers every 55 y (At least 150 y minimum from the green)
Fountain on the course
Toilets on the course
Shelter in case of a storm
Smooth golf traffic weekdays
Smooth golf traffic on weekend
Equipment rental
Trolleys freely available
Electric trolleys for rent
Golf carts or assimilated for rent
Course maintenance
1 gardener all 10 HA
Boggeys change all the 2 days minimum
Greens sheared by a Simplex
The frequency in season from the mowing of greens is once a day
Rolls of greens higher than 2.50 m
Rolls of greens higher than 3m
Greens are rolled at least twice a week
Shearing of the area departs is at least 3 times a week
Departs brands moving 3 times a week
Fairways mowed 2 times a week
Roughs clippings twice a month
Raking of bunkers twice a week
Club House Golf
Equipment and welcome at the club house
Club House Golf
Open 363 days or 7/7 in season
Accessible to visitors with disabilities
Lift
Clubhouse before the 20th century
Clubhouse between 200 and 500 M2
Clubhouse is between 501 and 800 M2
Club house superior to 800 M2
Club house is air-conditioned
Free wifi
Magazines available
Lounge
Traps visitors
Showers (minimum of 4)
Toilets in the locker room
Changing rooms - toilets cleaned 2 times a day
Locker rooms with bath sheets
The locker rooms with hair dryer
Locker rooms with body products
Home Golf
Website including English
Reception open 11 hours a day in high season
Reception staff recognizable
English spoken
Trilingual reception
Bilingual brochures
Local tourism offered
Regional products
Booking tee time online
Adjusted greenfee rate (season, time, network, chain)
Book's course offered
Rules of dress and Etiquette displayed
Caddie Master
Caddie Master services
Pro shop
Textile brands
Brands of clubs
Clubs for the current year test
Brands of shoes
Brands of manual trolleys and / or electric
Change of grip
Bar - restaurant
The 19th Hole
Independent access restaurant, hotel
Bar open 12 H a day in high season
Liquor license
Open for lunch
Open for evening
Menu golfer
Formula Green fee and meals
Tables coated
Gourmet menu in season
Dishes in fresh processed on-site products
Regional specialities
Gastronomic Award
Continuous service (snack, vending machine)
Bar and restaurant on the terrace
Weekend Bar Cart
Distributor soft drinks
Practice & teaching
Your warm-ups and practice training
Driving range near parking
Minimum depth is 200 m
Precision targets
Targets of distances
Individual dedicated space securised
Separators, Poles, display rules
40 posts minimum
Available balls in the morning
Practice balls 2 pieces
Practice balls is renewed and not partially
2 teachers at disposal
Golf Academy
Leaderboard competitions
Practice bunker
Pitching green
Compact golf course available
Putting green
Access - Parking
Your access information and parking features
Access
Golf website with information: access, map, GPS, rates, state of the course
Correct road access to golf
Airport is less than 30 minutes
Train station within 30 minutes
Motorway within 30 minutes
Parking
Video surveillance
Good condition
Parking spaces for visitors with reduced mobility
Pedestrian and car access under control
Car wash Service on the weekend.
Car parking has a night light
Annexes
All facilities after golf
Outdoor pool
Indoor pool
Tennis court
Pool table
Sauna
Hammam
Spa
Fitness room
Junior club for less than a week end
Monitor BAFA
Hotel on the golf course
Guesthouse on the golf course
Packages with hotel, restaurant, golf...
Agreements with hotels, restaurants
Major cultural, natural, historic site closer
Recreation area closer
Gastronomic restaurant closer
Golf and the environment
The whole ecological dimension of golf: policy and sustainable development actions
Field
Sustainable development or Certification in progress
Conversion program of flora in progress
Inventory of fauna and flora
Pedagogical course (informative signs,...)
Watering management optimisation
Recycled water (wastewater treatment)
You never use water from the public network
Departs, fairways and greens drained
Greenkeeping fleet less than 5 years
1 hybrid machine
> 2 hybrid machines
Ashtray of course offered
Buildings and equipment
Saving water for all sanitary facilities
Ecological heating
Photovoltaic system minimum
Light bulbs low consumption
Detectors of light
Household waste recycling
Electric vehicle charging station
Weather
Competitions
No amateur competitions open to the public scheduled for this day
All Reviews on GOLF DE GONVILLE
To give your opinion on for this golf course, you need to log in or subscribe