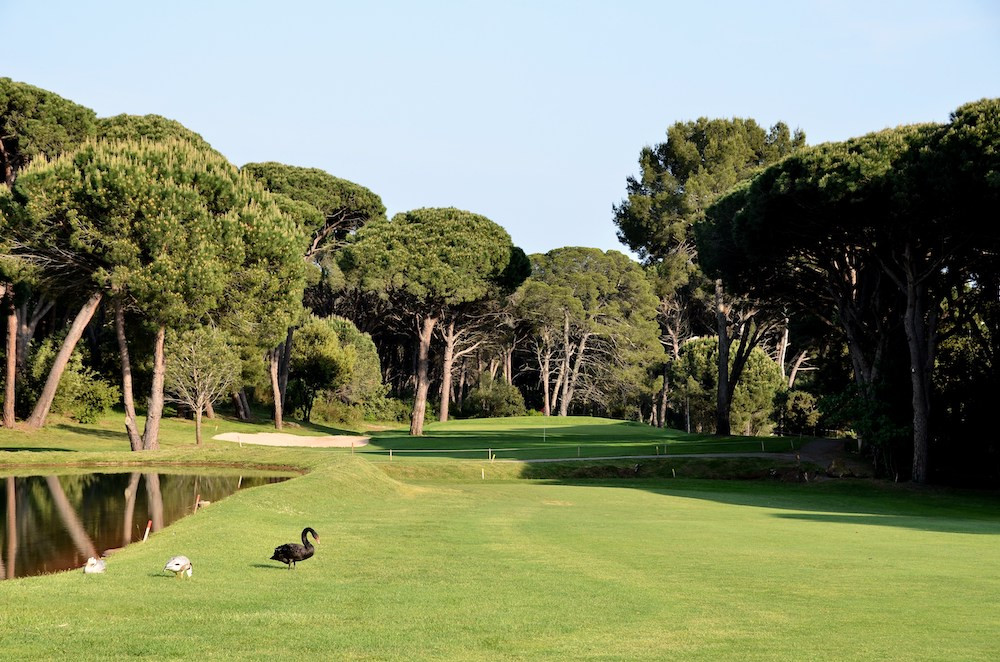 Courses
Ratings
Rates
Reviews
Book
Photos
Map + Leisure
Weather
Competitions
Located near Saint-Raphael and Frejus in the Var, the Golf Course of Saint-Raphael, 3rd Golf Stars, is a par 68 with a length of 5019 meters, open daily. Created in 1895 by Lord Ashcomb and designed by the famous architect Harry Shapland Colt, the Old Course is the oldest course in the region and the 5th built in France.
High quality, wooded and hilly, in the middle of the pine parasols, it hosts beautiful national and international events Several holes are quite short but the lack of width of fairways complemented by roughdifficult, many obstacles crowned with small greens impose a reflection on the whole course. Precision is de rigueur!
Electric trolleys and carts for hire.
You can dine at the Club House brewery, a charming wooden place built as a Norwegian pavilion for the 1900 World's Fair. It is possible to stay on site at the Najeti golf hotel in Valescure 4, in a calm and relaxing environment.
For dinner, you will be welcomed at the restaurant which offers traditional cuisine made from fresh produce. By staying at the hotel you will benefit from preferential rates on your green-fees. You will also have at your disposal the relaxation area with spa, steam room, bubble bath and in fine weather, an unheated outdoor swimming pool.
A beautiful escape between the sea and the Estérel massif!
Address

725 avenue des Golfs
83700 SAINT-RAPHAEL


Phone

04 94 82 40 46

Email

golfdevalescure@wanadoo.fr

Website
Architect(s) :

Harry COLT, Lord ASHCOMB

Opening date of the club :

1946

Number of practice stalls :

40

Number of covered practice stalls :

2
Informations
Find easily all informations of golf course.
Course
Open year-round
Course without nuisance
Online booking
Space cleaning multi function
Rental clubs
Fast Greens in season
Wooded path
Hilly course
Club-House
Green fairy flexible rate
Pro shop important
On-site accommodation
Bar restaurant
Non-stop bar in season
Snack continuously
Parking and Access
Near station
Near Highway
Secure parking
Leisure
Book
This golf allows you to book your green fee online. Please visit their website for more information.
Need help? Plan your next golf vacation easily with Golf Stars now.
Plan my next trip
Course
Valescure
18 holes - Par 68 - 5030 meters
Ratings
Better TO INFORM, better CHOISIR, better PLAY! Check out all of their Services and Equipment for each golf course
Sign up now for free and find out all the ratings below.
Signup to discover the ratings
Already a member? Click here to connect
Weather
Competitions
: LADIES DE VALESCURE
Format : Four balls, Open to the outside
: COUPE DU PERSONNEL
Format : Four balls, Open to the outside
: SENIORS
Format : Simple, Open to the outside
: 2F OPEN
Format : Simple, Open to the outside
: SENIORS DAY
Format : Scramble, Open to the outside
: LADIES DE VALESCURE
Format : Four balls, Open to the outside
: COUPE DES ROIS
Format : Simple, Open to the outside
: COMPETITION SENIORS
Format : Four balls, Open to the outside
: CHALLENGE DES COUPLES
Format : Greensome, Open to the outside
: COMPETITION SENIORS
Format : Four balls, Open to the outside
: WINTER CUP
Format : Simple, Open to the outside
: ASGCA SENIORS COTE D'AZUR
Format : Four balls, Open to the outside
: CHALLENGE DES FAMILLES
Format : Scramble, Open to the outside
: LADIES DE VALESCURE
Format : Four balls, Open to the outside
: COUPE DES HUITRES
Format : Four balls, Open to the outside
: ASGCA SENIORS COTE D'AZUR
Format : Four balls, Open to the outside
: TROPHEE EMILE COUGOURDAN
Format : Simple, Open to the outside
: COMPETITION SENIORS
Format : Four balls, Open to the outside
: COMPETITION SENIORS
Format : Four balls, Open to the outside
: COUPE DUCHESSE DE MARLBOROUGH - ...
Format : Foursome, Open to the outside
: COUPE DUCHESSE DE MARLBOROUGH - ...
Format : Simple, Open to the outside
: LADIES DE VALESCURE
Format : Four balls, Open to the outside
: TROPHEE DE LA FEMME
Format : Four balls, Open to the outside
: SENIORS DE BELGIQUE
Format : Four balls, Open to the outside
: SENIORS DE FRANCE
Format : Four balls, Open to the outside
: COMPETITION SENIORS
Format : Four balls, Open to the outside
: ASGCA SENIORS COTE D'AZUR
Format : Four balls, Open to the outside
: COMPETITION SENIORS
Format : Four balls, Open to the outside
All Reviews on GOLF DE VALESCURE
To give your opinion on for this golf course, you need to log in or subscribe