Play golf in Spain ? Costa brava of course !
- Golf vacation
2023 CAPTIVATING golf CATALUNYA'S COSTA BRAVA
Arriving in verdant Catalunya with the Pyrenees rising on the right, gentle hills rolling towards sun-drenched beaches on the left, one appreciates nature and farms yielding rich harvests of rice, wine, "Jamon" Serrano, cheese from this rich land. Marvelous delights come from the sea too…creating one of the world's gastronomic centers – "Cuisine Catalunya" and a paradise for golfers from the tee to green and abundance of historical discoveries or delights like Salvadore Dali's Museum and Theatre or numerous medieval treasures to discover in wandering Girona's routes.
Girona's Golf Galore
With numerous offerings from Pals – Costa Brava's first championship layout to Barcelona and its top courses like El Prat – no matter what your level, pleasure and great golf await as do many delightful 19th Holes. This famed land of Empordà is home to world famous painters, chefs, writers. The Costa Brava Golf Pass offers great values at top courses- Golf Club d'Aro, Club de Golf Costa Brava, Empordà Golf, Peralada Golf, PGA Catalunya, Golf de Pals, Torremirona Golf Club. Selecting Girona's tops to review, enjoy, game on – no regrets except for some bogeys!
Golf de Pals, Pals
The Costa Brava's oldest course 1966 – a spectacular pine forest on undulating dunes allowed Sir Fred Hawtree to design Pals keeping its verdant nature – which tests from all tees as it meanders through these towering trees outlining holes- par 73, 6289 mts of test. No trees were felled in construction. Spain's first 1972 Open – was held here with the great Seve Ballesteros. Water is only in play on two holes. The 4th – par-4 377 mts -with its high tee box is spectacular. Avoid the bunkers at all cost; your best putt probably needed to save par! The 7th and 12th require all one's shot making. One is somewhat protected from the breezes but they do impact shots frequently. Enjoy this amazing course and its greens and members; only 300…Top test for all levels in this special pine lined layout. The restaurant with its delightful jamon Serrano and tomato bread–***** was a delight ! Friendly staff, top course and conditions, easy parking, range and the warm welcome make Pals a must play for all levels.
A "must" play from June 2023 Serres de Pals– their newly renovated 9 holes with all sorts of sporting amenities in their newly developed complex – yoga, fitness, volley ball, paddle tennis, etc, conference facilities and a restaurant. Enjoy their selection of wines, fabulous Jason Serrano with tomato bread and their "arroz a la cresol" – a Pals local specialty at the Club House. Adjacent La Costa Beach and Golf Resort offers villas and apartments too; a four-star property with a lovely beach has special tariffs available for golfers. The Old Town of Pals is not to be missed and enjoyed from morning coffee to tapas and rioja; plus other interesting visits in historic Pals.
Club de Golf Costa Brava "La Masia", Cristina D'Aro
Perched high in the hills, these 27 holes of golf offer a challenge for all levels with their Red and Green layouts. The magnificent 1816 Club House is a landmark; lovely garden setting for dining or the 19th hole! Their intimate indoor dining with views and a classic menu of local Catalan specialties is renown.
The Green is the classic original layout stretching 5600 mts, par-70 which covers a hilly terrain with various water hazards plus lots of strategic bunkering. The 4th was testing downhill followed by the difficult 6th – a 419 mats par-4. The 8th takes your breath away! Club selection essential on this uphill tester. The back nine is somewhat less testing except for the 18th- win the match before! The Red has the first holes of the Green but then a variety of water holes designed almost a decade ago. The Red stretches 5966, par-73.
Javier and his talented, friendly team welcome all; a great play awaits on both layouts. Walk able; buggies available. Reservations essential. A variety of partner hotels exist in Platja d'Aro…check with Golf Club reception.
Guests are welcomed and may play in tournaments; from its early days CCCB was always very social, welcoming golfers and guests in the heart of Empordà. 2023 is no exception.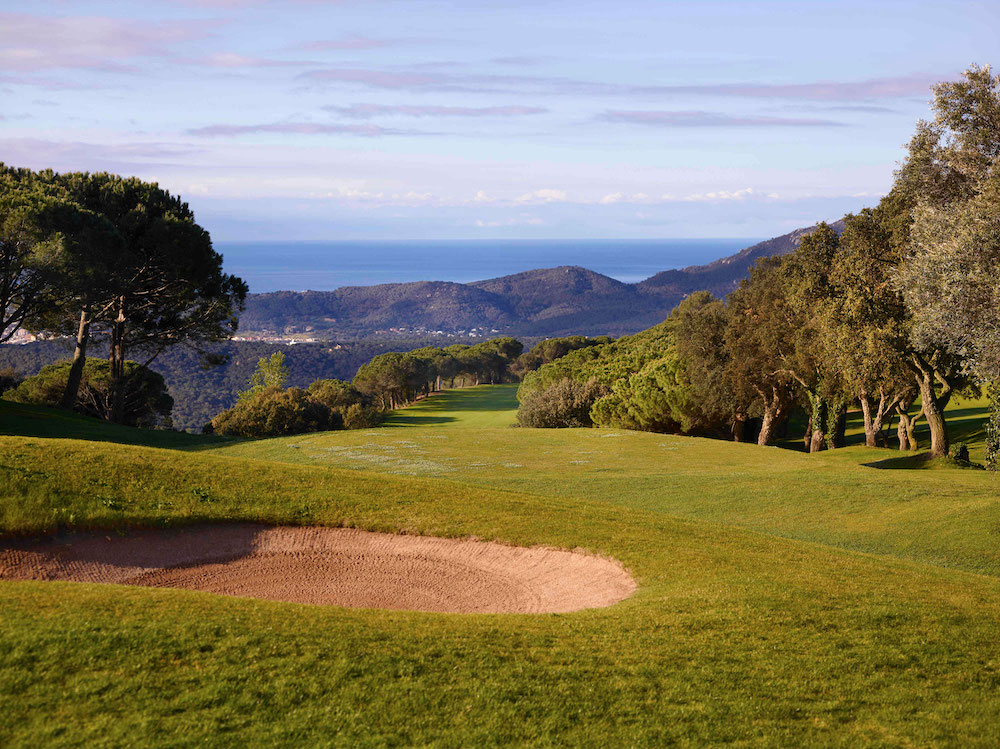 Golf Club d'Aro Mas Nou, Castello d'Aro
Perched high above Costa Brava's sundrenched beaches with stunning panorama's "Mas Nou" was designed by Ramon Espinosa in 1990 and was awarded in 1992 the best course in Europe. Stretching through forests, water hazards await as does strategic bunkering on this 135 slope, 6210 mts, par-72 from the tips layout with GEO certification. Mas Nous also welcomes all for their Pitch & Putt 9-hole course where one can start learning or improving ones game with holes from 60 to 116 mts, over undulating terrain.
An active Golf Academy offers coaching to beginners as well as advanced players. Full rental club selection is available, buggy hire, etc plus an attractive Pro-shop. Reservations essential.
Fort 19 Golf Club d'Aro's restaurant delights guests and members. Andulancian chef Ana adds her Cadiz touches to her many famed dishes of Catalunya…top wine list too. A not to miss culinary discovery.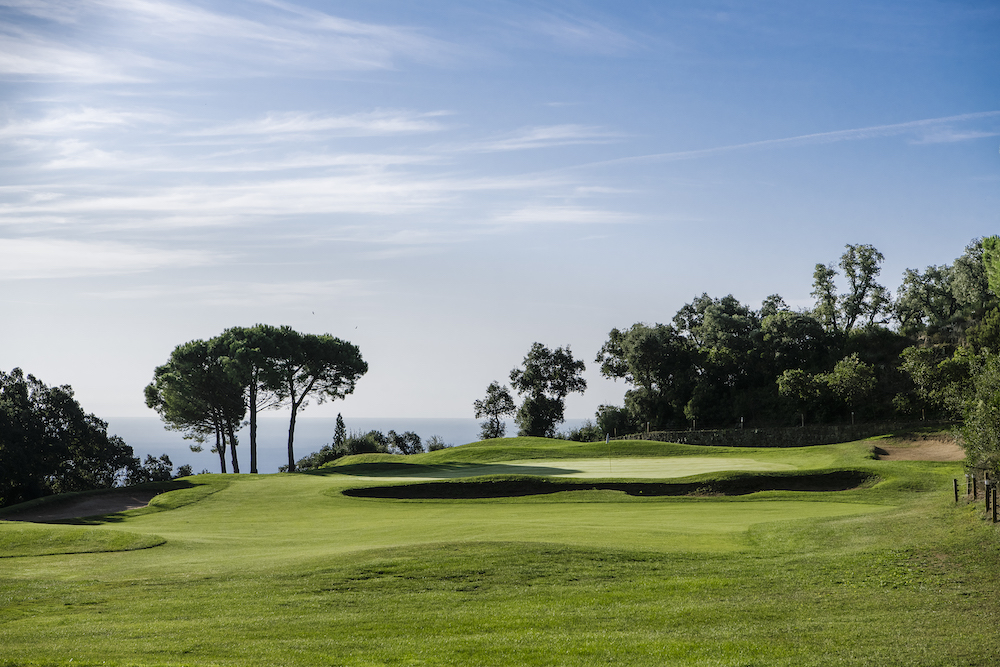 Camiral Golf and Wellness, Caldes de Malavella
Renamed Camiral, PGA Catalunya golfs – Stadium (6684 mts, par-72) and Tour (6130 mts, par-72) – are "must plays" for all serious golfers since their inception. PGA Stadium Course has been Spain's No. 1 play in 1999 and always in Europe's top courses since. It hosts top PGA European Tour events and is still seeking to host the Ryder Cup Matches. "Camiral" comes from Royal Way – Cami Ral – which connects France and Spain; the resort continues to expand with lodging and real estate options attracting guests to enjoy Girona's delights and Costa Brava's beaches.
Not only home to the Stadium Course's testing layout, the Tour layout offers up great challenges too. The Golf Hub is a marvelous training facility for ams and pros. I was lucky at the Hub to have one of Europe's top amateurs next to me; it was appreciated his inputs and commitment. Inspiring. Practice facilities and short-game areas are tops and the 19th hole had wonderful wines!
Stadium demands one's A game… Teeing off with wind galore with gusts constantly hampering shots added to the challenge. Not really the traditional breezes! Stadium's water hazards, trees and bunkers test on seven holes. Be warmed up from the start, as there is no easy par on this testing layout from the 1st to the 18th!
Suggest conservative play on the 4th or disaster can appear. The par-3 fifth gives hope! The back tests more as one remembers from the DP World Tour events here. The Signature 13th demands top shot making, strategy for par! Be prepared – 18th isn't an easy finish. The 19th Hole – celebration or consolation? A great memory no matter what the score….
The Tour provides great play with some more accessible holes and pins usually. A great preparation, suggestion – play it first then Stadium. Reserve ahead as the courses are usually fully booked. Walking is great; both are very undulating layouts so a buggy could be helpful. Excellent pro-shop with most brands displayed with their offerings; great selection of rental equipment too.
Away from the golf links…
Girona's historic sites of medieval Girona plus other interesting discoveries for all tastes— Arab Baths, the Monastery of Sant Pere de Galligants, Girona History Museum, Independence Square, and the Museum of Cinema are just a few…Wander the streets at night for tapas, bars with live music, night lounges, and "in" cocktail bars – all has their ambiance, beat! Don't forget the Game of Thones.
Culinary delights …loved Roca Mas Marroch in its delightful round environment – relaxed, casual, cool elegance. Service galore and attentive wine sommelier was ***** along with the great selections he made for us. The Asparages Comtesa with truffles were sublime, followed by the classic Iberian suckling pig with quince terrine, orange, onions – amazing. Don't miss the Trip to Havana ! The Goose was also a taste treat which my restaurant connoisseur who arranged our visit graciously let me taste. His knowledge and selections were perfect with the cuisine, wines. Wines and brandy a la perfection! Cucina de Can Simon, Tres macaroons, Can Jubany, Bo.TiC are a few of the many tempting ones…for the next Costa Brava visit but Mas Marroch will always be a must!
A must discover is Salvidore Dali's Museum and Theatre in his birthplace, Figures; book in advance. A superb exhibition of Dali's many talents from design, video, paintings, ceramic, jewelry, photography…very interactive, unique. Stroll though charming Figures' center with its history and buildings. Dali fans don't miss a visit to his residence where he lived, worked until 1982 when, after Gala's death, he moved to the Púbol Castle.
A seaside lunch after is delightful in Empuriabrava—unique on the Costa Brava with its canals winding everywhere. One can even take a canal boat trip! Lovely ocean front restaurants flaunt Paella mariscos and other seafood delights…Great beachfront walks too. Next stop to discover Sant Marti d'Empuries and it's lovely church perched high over the beach. Restaurants galore for coffee or sunset aperitivo after a relaxing walk. The quaint picturesque medieval village Peratalada is not to be missed for its charms. Restaurants await plus lovely boutiques- delightful away from the crowds with its colorful calm seaside ambiance. Shhh!
Bustling colorful beachfront Platja d'Aro lies near many of the Costa Brava's great golf courses – Costa Brava Hotel perched high above is delightful or central Spa Hotel La Terrasse welcome. Miles of spectacular beach walks –Cami de Ronda, S'Agaro, Mirador de Puig Pineli- – plus elegant shopping await before choosing from a selection of dining options and music treats or a spa relaxation.
Costa Brava is the place to play golf…don't miss it!
Fact File
Costa Brava Golf Pass, click HERE !  
Susanne Kemper
all images are compliments of the golf clubs GC Pals, Costa Brava GC, Golf Club d'Aro Mas Nou, Camiral Golf Club & Wellness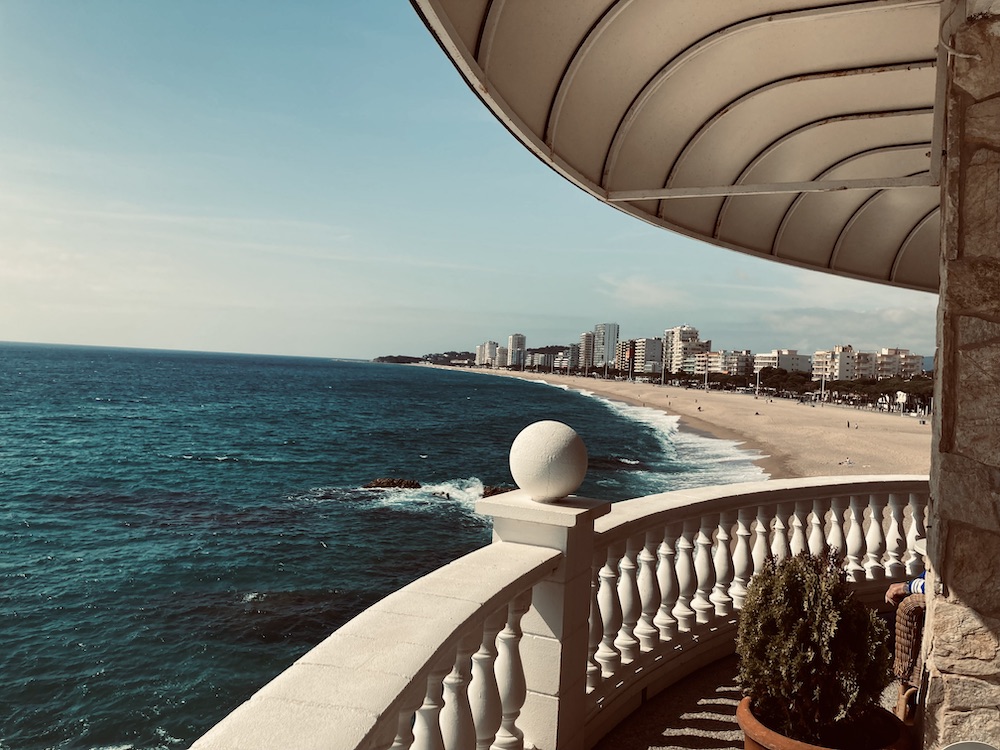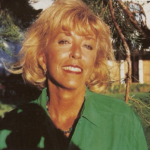 Susanne Kemper
Susanne Kemper has covered the US PGA Tour's West Coast swing and key events, DP European Tour's events, Ryder Cup since Valderrama, WCG, British Open, US Open, plus South African, Latin American, and Australian Major tournaments for 20+ years and numerous LPGA, LET and Solheim Cups.