Sublime Sotogrande, Spain Golf Courses
- Golf vacation

play the Spanish Golden Triangle of Golf
1997's historic Ryder Cup at Valderrama with European Captain Seve Ballesteros' team memorable victory over the USA put Sotogrande at the top of global golfer's play list. Nestled along the azur Mediterranean, Sotogrande's beaches and charming port lie between Marbella and the Rock of Gibraltar. Initially called the "Golden Triangle of Golf" – Real Club de Golf Sotogrande, Real Club de Golf Valderrama– called by many "Augusta of Europe", and San Roque Club offered superb golf to all from the early 90's. La Hacienda Links Resort's sublime seaside Links (1992) and hilly Heathland courses opened, then 2023's Solheim Cup host – Finca Cortesin – joined an elite group of "must plays" in this golfing paradise.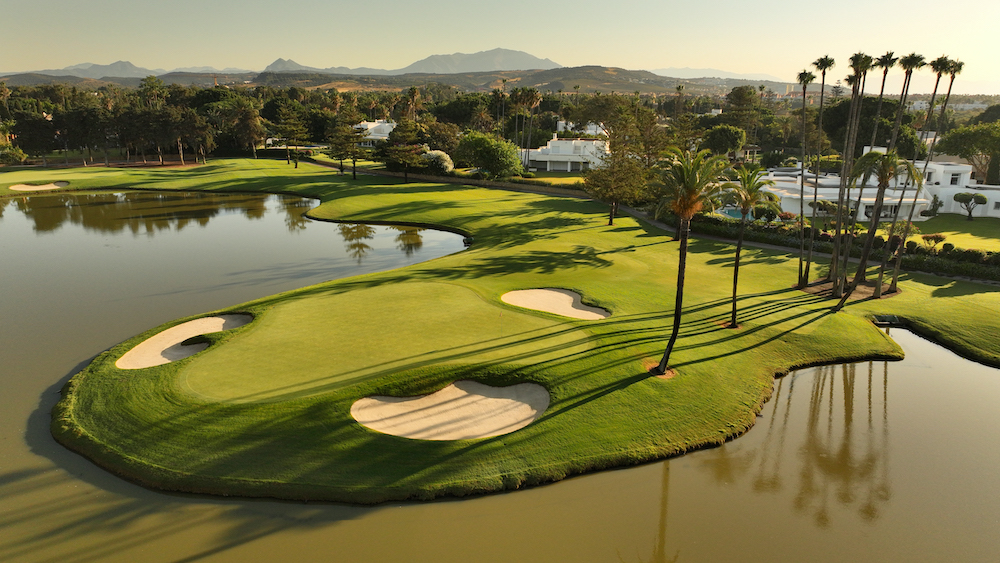 Real Club de Golf Sotogrande
Opening in 1964 Real Club de Golf Sotogrande was Robert Trent Jones Sr's first European design incorporating his philosophy of integrating courses into their natural site surroundings, creating a test for better players, and an enjoyable round for all. Joseph McMiking, Sotogrande's developer, let Jones personally select the terrain for this course. It was the first course seeded with Bermuda 419, plus a totally automatic irrigation system becoming a reference in European golf development.
Jones designed more than 500 courses globally, but Sotogrande was one of his favorites. The Club House was inaugurated in 1965; in 1966, Sotogrande held its first Spanish Open Championship. Argentina's Roberto de Vicenzo won; a year later he became the oldest winner of The Open Championship by overcoming challenges from Gary Player and Jack Nicklaus.
In 1979 the members acquired Sotogrande giving rise to a Members Club which became one of Europe's top members clubs. Today Sotogrande has 2378 members of many nationalities plus many Madridlinos, who enjoy all their extensive facilities beachfront plus the superb golf on the championship and short course.
Not only international stars triumphed; in 1983 young Jose-Maria Olazabal won the Spanish Amateur, and 1987 the Spanish Professional Championship crowned Seve Ballesteros at Sotogrande. Ballesteros, then ranked World No 2 with four Majors' victories, still battled to defeat Pepin Rivero. European Tour Qualifications tournaments have been staged at Sotogrande and San Roque for years. In 1994, King Juan Carlos I granted to Sotogrande the title of Real.
In Gibraltar's shadows RCG Sotogrande's championship layout – par-72, 6492 meters – over undulating terrain with two lakes plus more than 100 bunkers – 69 protecting greens. A variety of vegetation adds to the beauty with mountain vistas framing holes too – plus palms, cork oaks, pine trees – embellish the course's holes attractively. Director Kostka Horno manages RGC Sotogrande admirably; he is pleased to be welcoming the DP World Tour's Andalucian Masters in the future adding to their prominent amateur role in golf development. A spacious driving range with short game areas, plus putting greens are tops.
A short course of 9-holes is adjacent to the Championship layout. A full-service pro-shop, caddies, carts, and all other amenities complete RCG Sotogrande's quality offering throughout the year. Green fees may be reserved; handicaps required.
RCG Sotogrande's attractive Club House spoils all with excellent dining and facilities – lockers, meeting rooms, restaurant, bar as well as convivial terraces. Their veal filet was superb, plus the cellar offers extraordinary choices – top service everywhere.
Jaime Salaverri Aguilar, President of Real Club de Golf Sotogrande, kindly shared Friday afternoon while watching Estrella Damm DP World Tour play above the 14th green, "the course renovation plus a new comprehensive total drainage installation in 2015 by specialists of Jones Sr including the practice areas was superb. So, we weren't concerned with this week's storms, water, winds over the past days and nights. We are thrilled to welcome the Estrella Damm Andalucia Masters. We have hosted the important amateur Nations Cup (called Sotogrande Cup and originally the Sherry Cup) for 50 years where McIlroy, Sergio Garcia, Padraig Harrington, and many others excelled. We are pleased to have the DP World Tour now." Players and fans commented on the amazing work done the DP tournament week by their greens staff under these testing, difficult conditions. 2023 Estrella Damm Andalucian Masters coverage in annex of this feature.
RGC Sotogrande's opening par-4 tests with water fronting the large undulating green on the right. The 2nd an uphill par-5 (514 mts) demands precision, the rough penalizes. The par-3 4th 202 mts to an elevated tiered green well defended requires a precise iron shot. The uphill right dogleg par-5 6th is devilish as is the 7th. The par-3 168 mts 8th plays uphill to large undulating green. The 9th plays uphill and 10th downhill; both are dog-legs framed by trees. The 11lth's narrow fairway and elevated green offer birdie possibilities.
The par-5 12 is a tight tee shot- forest on the left and water right from an elevated tee to a slender fairway. The pro's had fun with the par-5 14th (483 mts) playing over the water, trying to hold the thin tiered elevated bunkered green in two for eagle! The tricky 15th cost many a pro—415 mts , this downhill par-4 angles right into an elevated tiered green. The 16th has birdie opportunities for long hitters from the left center fairway only; water is right greenside. The isle like 17th – par-3, 164 mts – has three bunkers defending the slippery green. The uphill 18th – par-4 430 mts – plays to a heavily guarded green; a long drive center fairway then precision into the proper green quadrant avoiding the cavernous bunkers is essential. An exciting, demanding test of golf…in a spectacular natural setting with beautiful sea and mountain panoramas.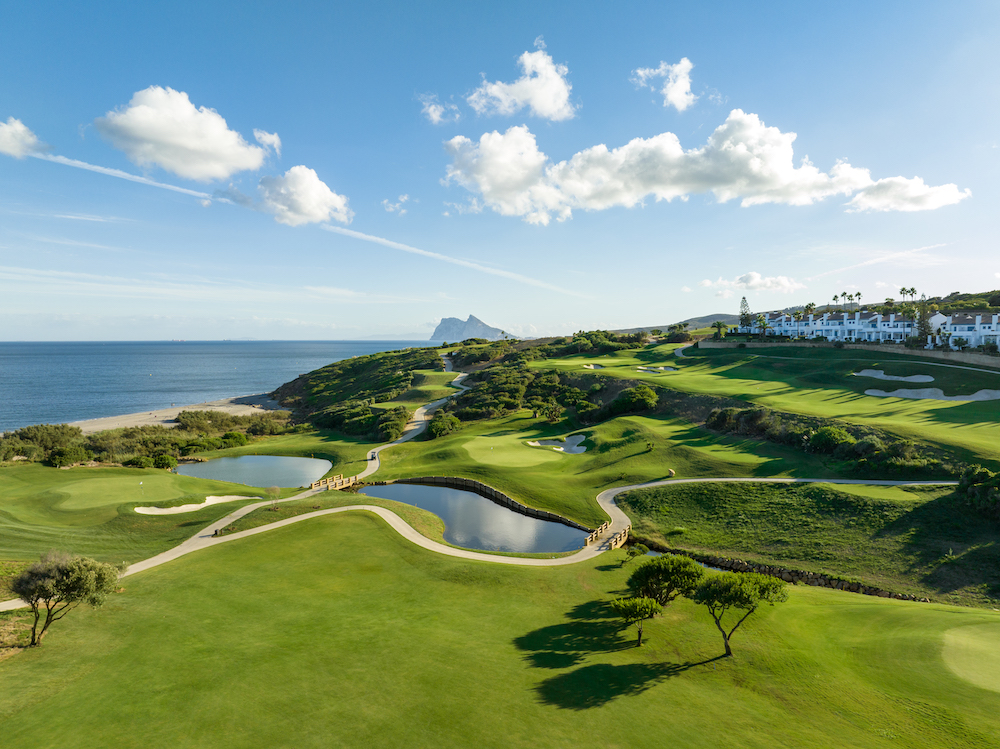 La Hacienda Links Golf Resort, Alcaidesa, Cadiz
Stretching over spectacular undulating links land along the Mediterranean in the shadow of Gibraltar, Alcaidesa Golf Resort was acquired by Millenium Hospitality in 2019 with numerous renovations, changes were inaugurated. Initially designed by Peter Alliss and Clive Clark inaugurated in 1992, Kurt Bowman's renovation of the Links Course opened the course to the sea with views from all holes, plus greens on 5, 11, 13 are now closer to the sea's edge. All enhances the "links feel" as do the Bermuda grass greens and adjacent bunkers. The Bermuda has added immensely to playability, sustainability. Bunkering was enhanced with fescues grasses and rough adding to this links look, playability; all is now growing in well.
The renovations on the resort's Heathland course started with work executed on tees, water hazard's improvements, some leveling of terrain, etc. This Dave Thomas 18-hole design traverses three valleys offering various landscapes, with some landing areas and wider fairways, narrow steep ascents or drops, scrub vegetation, and sea views too. Completely different from The Links! Pro-shop, locker facilities, Academy, practice facilities plus attractive terrace dining and restaurant are available.
In 2024 the five-star Fairmont Hotel and Residences will open with an expanded hotel complex and residences, beach facilities and more amenities, all showcasing their fabulous 36- holes of championship golf attracting new golfers to La Hacienda Links Resorts' two breathtaking golf courses and their new luxury offering.
The Links – alcaidesa golf resort
Links is a ***** must play….5841 mts from the tips, par-72, it tests from the first tee with challenging layouts and great often undulating greens. The opening downhill drive on the 1st – par-5 must be in the center of the fairway to set up positioning and hopeful par. Rough penalizes, as does the wind. The 2nd – 214 mts uphill off the tee exacts precision. The par-4 third is a a strong hdcp 1—downhill test. No easy par on the 4th – a par-4 uphill, drive left center fairway off the tee is best. The 5th is treacherous with water in play everywhere. Finally, the par-3 6th offers a possible score as does the par-5 7th for birdie. The downhill par-3 8th is many golfers' favorite! A great hole – precision off the tee and on the green essential. Don't take too many photos! The uphill 9th tests. Amazing Bar and Restaurant with superb views prepares one for the back nine…enjoy.
The downhill 10th par-4, 323 mts is a great start. The blind tee shot on the par-4 uphill 11th should be on the left side to par it. Testing is the par-3 12th 176 mts like the tough par-4 13th. The steep uphill 15th is a devilish 270 mts. Superb is the 17th over the water 146 mts – get a par. The par-5 18th 459 mts downhill is wonderful. Sensational Sangria or your favorite cocktail await with tempting Tapas on the terrace…and more Kodak clics. Walkable for many; carts are helpful for 18 holes. Book another round before leaving !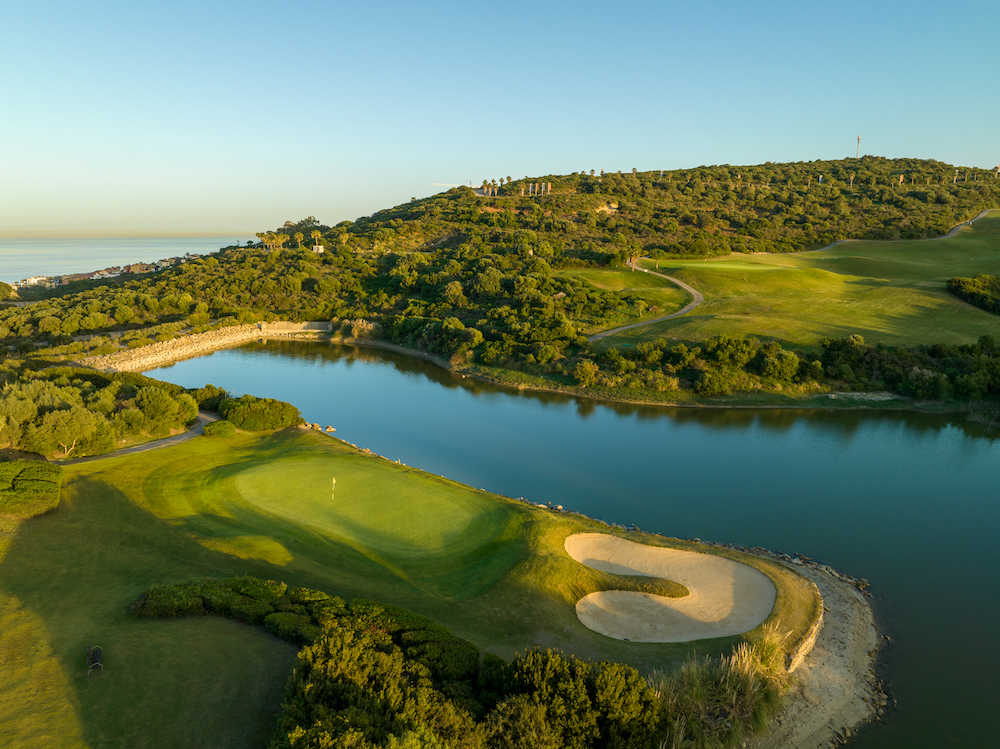 The Heathland – – alcaidesa golf resort
Narrow fairways winding through valleys, plateaus in the Andalusian hills for 6415 mts, par-72, the Heathland's slope is 134. It can be windy in exposed areas too- great "photo opps" are frequent with sea views and verdant nature. The tricky 1st is a par-4 slightly downhill off the tee but uphill into the green followed by the 2nd a long uphill par-5. The par-4 4th hdcp 1 merits attention; stay on the fairway. Playing uphill 191 mts the par-3 5th is tops for long hitters like the par-3 8th—175 mts. The par-5 10th has teeth – 537 mts uphill and the par-4 11th is challenging too. The par-3 12th is 146 mts uphill and scoreable. The downhill par-3 14th measuring 185 mts tests – water in play. The 17th is memorable with its open, flat undulating fairway to the slightly elevated bunkered green. The par-5 18th (447 mts) offers a great finish; this left dogleg plays downhill off the tee, then uphill to a large tiered green. Carts are advisable; the course may be walked.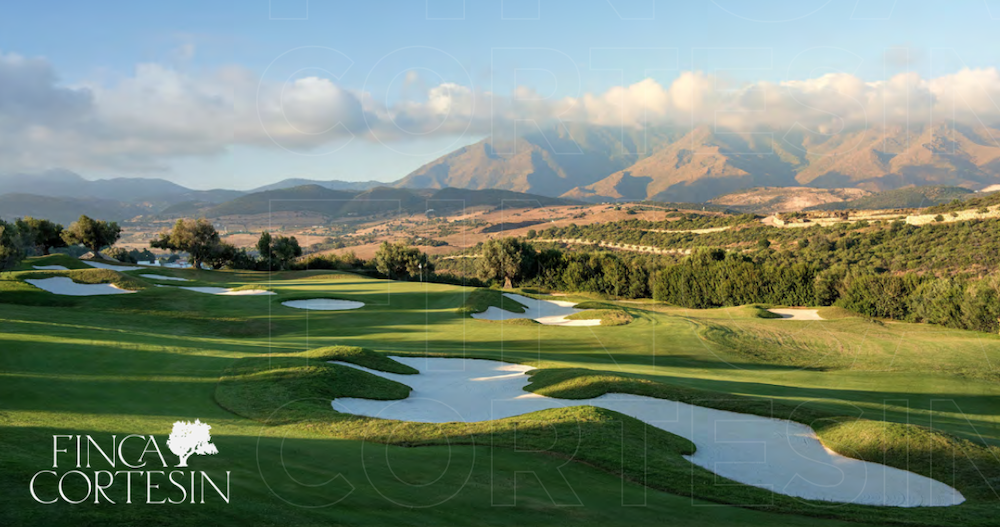 Finca Cortesin, Estepona
Perched a mile above the Mediterrean's sandy beaches in a 215 hectare verdant hilly estate between Marbella's Puerto Banus and Sotogrande, Finca Cortesin is one of Spain's top championship layouts designed by Cabell Robinson. Opened in 2006, this par-72, approximately 7000 yds with over 100 bunkers follows on hilly layout plus large undulating greens; a redesign was done for 2023's Solheim Cup with some Solheim routing changes for their Matches.
Voted Spain's Best Golf Course 2022, Finca Cortesin is also renowned for its resort accommodations – an elegant Suite Hotel plus residential properties, 2,200 sq mts of spa and wellness offerings including Spain's first Snow Cave, plus a trio of top Repsol award winning dining options. A relaxing private Beach Club is located at lovely nearby Bahia de Casares with infinity pool, loungers, services only during summer months.
Home to the Volvo World Match Play 2009, 2011, 2012, and 2023's Solheim Cup where Europe's Norwegian Captain Suzann Pettersen led Europe's team to a tie at Finca Cortesin making history. Europe retained the Cup by winning 14 points; Spain's heroine Carlotta Ciganda sank the winning putt for the 14th point. A fabulous finish with King Felipe XI at the green watching anxiously, then Europe's explosion of joy! Captain Pettersen shared, "It's an amazing resort definitely the best venue for the Solheim Cup." 2017 Masters Champion Sergio Garcia feels, "the course and greens are impressive."
Excellent practice facilities, a Jack Nicklaus Golf Academy, plus a spacious Club House, and numerous other facilities, pro-shop, and a variety of dining sites are available. One of Europe's most environmentally friendly courses with Spain's first ACOSOL's approval.
Teeing it up on the first sets the stage for a great round over this exciting challenge. A cart is recommended plus a quick warm-up using the practice facility enroute to the tee.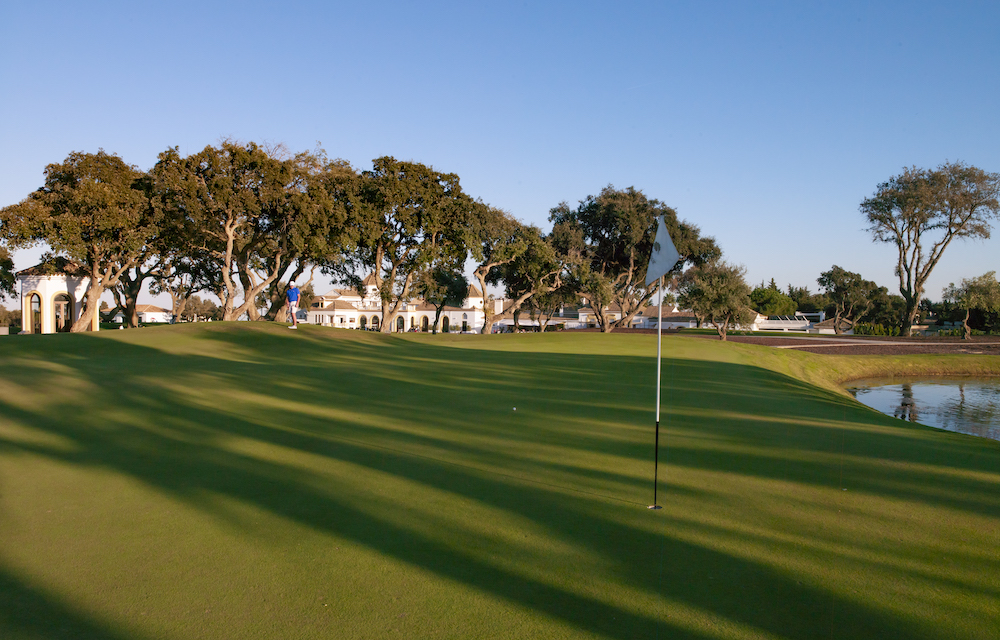 San Roque Club, San Roque
Nestled in Sierra Bermeja foothills overlooking the sea with Africa and Gibraltar in the distance, San Roque Club with its famed Old Course and the attractive New Course offer 36-holes of demanding championship golf. San Roque Club lies in the Domecq sherry family estate – 340 acres of peaceful tranquility with a plenitude of ancient Cork Oaks.
Opened in 1991, Dave Thomas designed the challenging Old Course, which became home to European Tour Qualifying Finals starting in 1993. San Roque also hosted both the US and Europe's teams during Valderrama's 1997 Ryder Cup; names still mark these visitors' suites at the Club. A joint effort between Seve Ballesteros and Perry Dye created the New Course in 2003. A contrast with the Old, very different in design it challenges too. Home to Spanish Opens, San Roque's golfing tests are famed amongst Europe's golf stars from Justin Rose to Ian Poulter and Padraig Harrington. Amateurs love the test and the challenges of some of the most beautiful holes they've ever played.
Great installations for training with a two-tiered covered driving range, enormous holed practice areas and putting greens, and pitching, short game area with top practice bunkers. Carts, club rental and all other amenities are available at their comprehensive pro-shop and with their Mark Emery Golf Academy. Reservations essential.
The Old Course stretches 6311 mts, par-72 with a 133 slope over exciting hilly terrain with lots of strategic bunkering plus some water hazards demanding top shotmaking not only off the tee but precise irons to testing burrowed greens. The pro's love this test; play the correct tee and you will too. Challenging but rewarding for good play!
The design collaboration with Seve Ballesteros offers interesting
challenges on the New Course. A par-72, 6497 mts, its undulating terrain has several water hazards matching its testing bunkering.
San Roque Club…a definite must for all; reserve early with the Club for openings, booking tee times.
Away from the Links…
Wide sandy beaches stretch temptingly along this coast toward Gibraltar as lovely hills, valleys cascade down from the various mountain ranges; Sherry brought many visitors as did the climate in early days. Today, hillsides are covered in Andalucia's typical white buildings with high rises standing out too. Quaint ports dot the coastline like Puerto de la Duquesa, Sotogrande's new expanded port , marina, and harbor with the best water sports to be found along the Coast, or glamourous Puerto Banus and Marbella's Puerto Deportivo.
All the marinas offer food, picnics by a lighthouse, tapas and even elegant dining. Sotogrande's Puerto's tops is KE for drinks, lunch, dinner —always busy, reserve ahead; Veranda is best for fish, and Café Midas offers the best tapas plus amazing dining too. Sotogrande's Trocadero beach restaurant and bar delights all day and into the night. Golfers may dine with a reservation at RCG Valderrama; contact the Club to reserve. For Argentine grilled meats – Victor Grill in Puerto de la Duquesa is tops—Victor welcomes warmly all and best grill I've had since Buenos Aires eight years ago! Beaches and water sports a go go here- Sotogrande has it all— a must like some of the great hikes !
So much to discover, play, enjoy and this is the start….Sotogrande is sublime.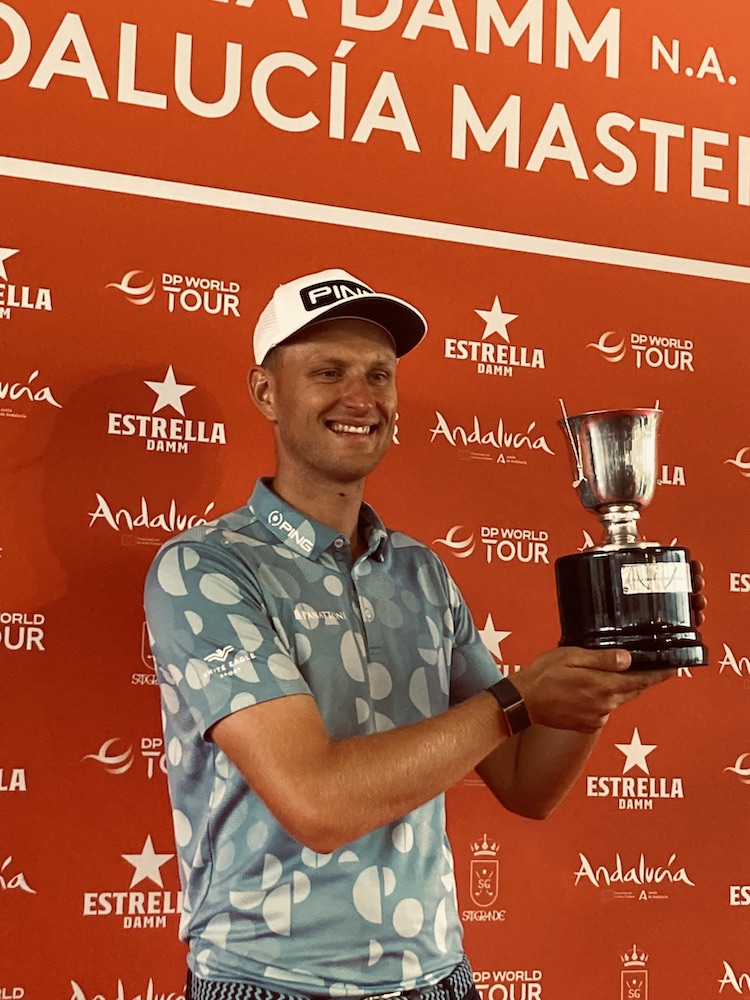 2023 Estrella Damm Andalucia Masters rc Sotogrande
From October 19-22 historic Real Club de Golf Sotogrande hosted the 2023 Estrella Damm Andalucia Masters; Spain's Adrian Otaegui was defending his 2022 title won at Real Club de Golf Valderrama with -19. Several former champions were in the 2023 field including Francesco Molinari, Marcel Siem, and Guido Migliozzi, Todd Clements. Sotogrande – one of Spanish golfs historic sites – its famed Robert Trent Jones layout is a testing long hilly par-72 fronting the Mediterranean in the shadows of Gibraltar.
Sunny weather deserted Real Club Sotogrande Wednesday for the Pro-Am and continued with gusty winds and rain into Thursday's opening round which finished only Friday morning. England's James Morrison fired a superb 64 (-8) to lead in testing conditions getting the best weather in early morning. Defending Champion Otaegui was pleased (-6) with his start as was Germany's Nick Bachem with -7. Friday fortunately yielded less violent weather allowing all players to finish, The cut was
-1; some top names missed. Otaegui, South Africa's Louis de Jager, and France's Jeong Weon Ko led with -9 (135) going into Saturday. Sun returned fortunately for the fans and players Saturday —with great play, the leaderboard got crowded. Spain's Arnaus, Germany's Schmid, Denmark's Winther excelled with 65's as did Poland's Meronk's 66 to climb the leaderboard into contention with Otaegui (69) and Ko (70). Winther shared, "Lovely day, beautiful weather, good greens, what's not to like?" and Schmid felt "Just played really good golf. Just one bogey, which happens."
Chilly gusty winds and rain returned Sunday with tee times advanced plus split tee starts. Winter (-14), Schmid (-14), and Otaegui (-12) led Sunday morning in the final pairing. Drama unfolded – eagles and dropped shots. Meronk's first eagle then another on the 9th hole with his wedge hole-out from fairway. Jubilation ! "Probably my shot of the year" he shared later. But he kept focusing "next shot only" making a birdie to take the lead at 17th. Playing consistently Schmid protected his lead; he missed his eagle but birdied the 14th to stay tied. Then he dropped one on 15; he didn't make any birdies coming in to catch Meronk's Club House lead -16.
Meronk smiled at Prize Giving, "On the ninth hole I had exactly 110 metres, it's a good yardage for my 54-degree wedge. I was hitting that shot on the range yesterday after my third round. I just hit it perfectly, little draw, one bounce and in. I haven't holed many shots this year from the fairway, to do it here and to get the win, that one shot made the difference. It was huge. It was shot of the week, maybe shot of the year for me as well. I didn't really know how to react. I was just happy it went in. High fived my caddie, and got the ball."
Poland's Adrian Meronk won his 4th DP World Tour event for third place in 2023 DP rankings with hopes for a great Tour Final and 2024 US PGA tour card too.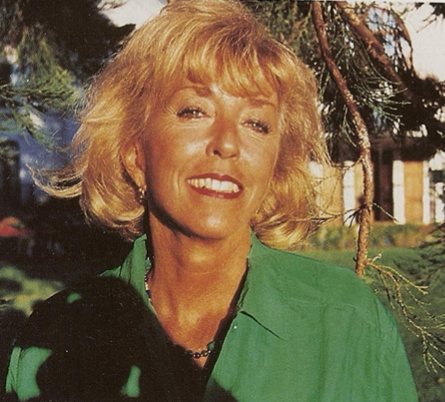 Susanne Kemper, Golf Trotter Reporter
With compliments of Rolex, RC Sotogrande, RC Valderrama, San Roque Club, Hacienda Links Resort, Finca Cortesin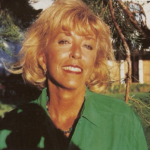 Susanne Kemper
Susanne Kemper has covered the US PGA Tour's West Coast swing and key events, DP European Tour's events, Ryder Cup since Valderrama, WCG, British Open, US Open, plus South African, Latin American, and Australian Major tournaments for 20+ years and numerous LPGA, LET and Solheim Cups.