All road lead to Rome and ….Il Falconiere Relais & Chateaux
- golf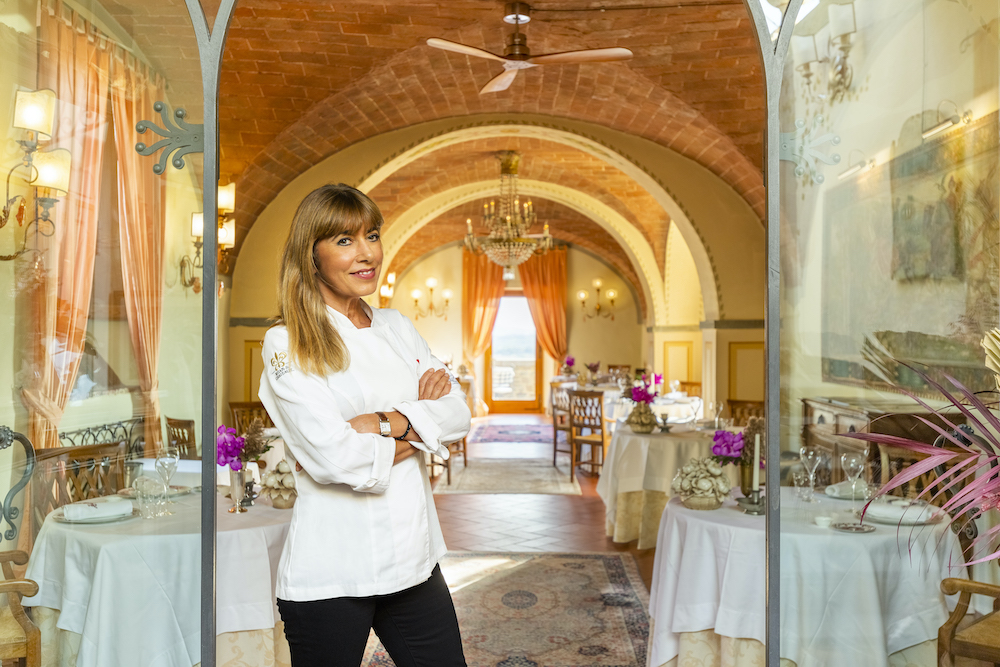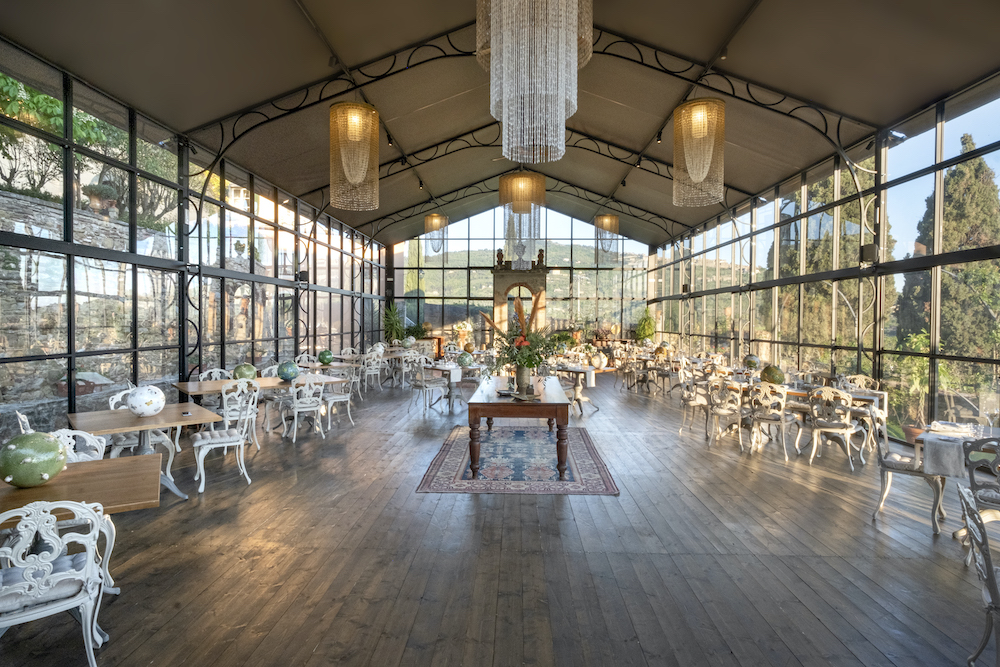 Tantilizingly Tuscan….Il Falconiere Relais et chateaux
Arriving at Il Falconiere engolffed by its verdant Cortonese landscape, scents of blossoms and nature prevail and welcome. Spring's delights, summer's amazing sunny glow, autumn's superb harvests – all captivate guests at Silvia Baracchi's enchanting Relais & Chateaux's Il Falconiere.
Not only a tasteful getaway, but Silvia Baracchi – Michelin starred Chef since 2002 – has created a selection of accommodations satisfying all tastes – with superb antiques and a four-poster bed too – nestled amongst rolling hills in keeping with local Tuscan traditions. New modern delights for guest's convenience too – be it in dining, the spa, or activities.
Perched on a hillside above the vineyards facing Cortona and valley lies superb Vigneto Villa and various others lodgings away from the Farmhouse, plus another pool, terraces. The perfect setting for large groups and private celebrations, only a three minute walk to the hotel or spa…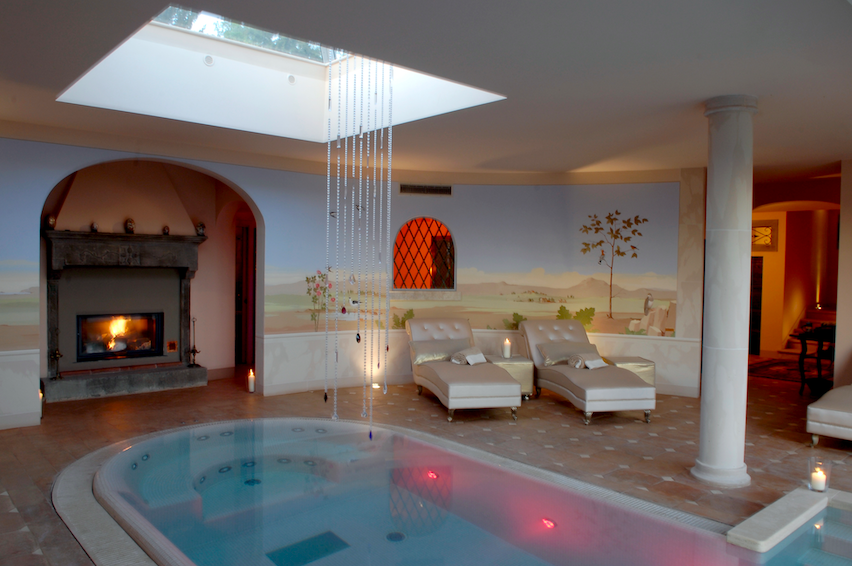 The spa is a haven like it's surroundings of indoor and outdoor pools. Panoply of offers abound… plus an indoor trainer on-site. Scrubs, waxing, massage and facial treatments, hammam, hot tub, solarium…relax!
The Falconiere team has service-plus levels; this is the "stop" for food lovers and don't forget their wine tasting too at their Vineyards.!
An ancient lemon tree is the heart of this domain's restaurants – dominating with a superb panorama of the Tuscan hills coupled with its enchanting terrace lounge bar – "La Dolce Vita" from 11 am. The unique new Gazebo offers breathtaking dining from sunrise to moon beams in Tuscany's romantic countryside.
My first experience was lunch early November pre-Covid with Hawaii's Mike and Aida Paulin. Paulin, former President of PATA, creator of Aqua hotel and resorts, has provided top *****dining for 70 years, raved, "after 90+ countries our dining with Silvia's menu was non-paralleled; our table's superb views of the Tuscan countryside unsurpassed. The pigeon was to die for …as was this setting. We returned twice for more delights in the next four days. Grazie mille, Silvia. We also loved Riccardo's wines, matching her selections. Their suggestions, expertise were memorable."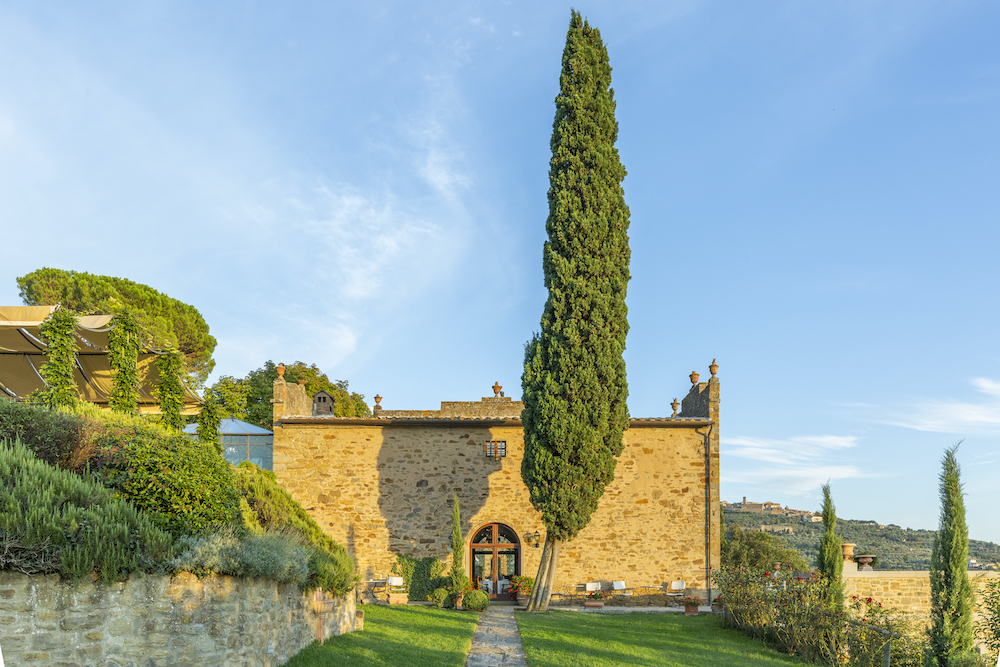 Tantilizing Tasting Menus
"Whenever possible dine with the stars Michelin"… one will enjoy many delights for many nights with Silvia's diverse presentations …changed daily with fresh products. This Spring's delights were the "Mediterranean Aquarium" with tasty fresh, marinated amberjack, shrimps with cucumber and passion fruit accents followed by the amazing "Crusted Smoked Lamb" with rosemary, cherries, shallots surpassing all! Her signature dishes are the "Pigeon in Casserole" and "Chiannina Beef Sirloin CBT" with peposo sauce. The menu has so many temptations—all exciting—enjoy and Buon Appetito.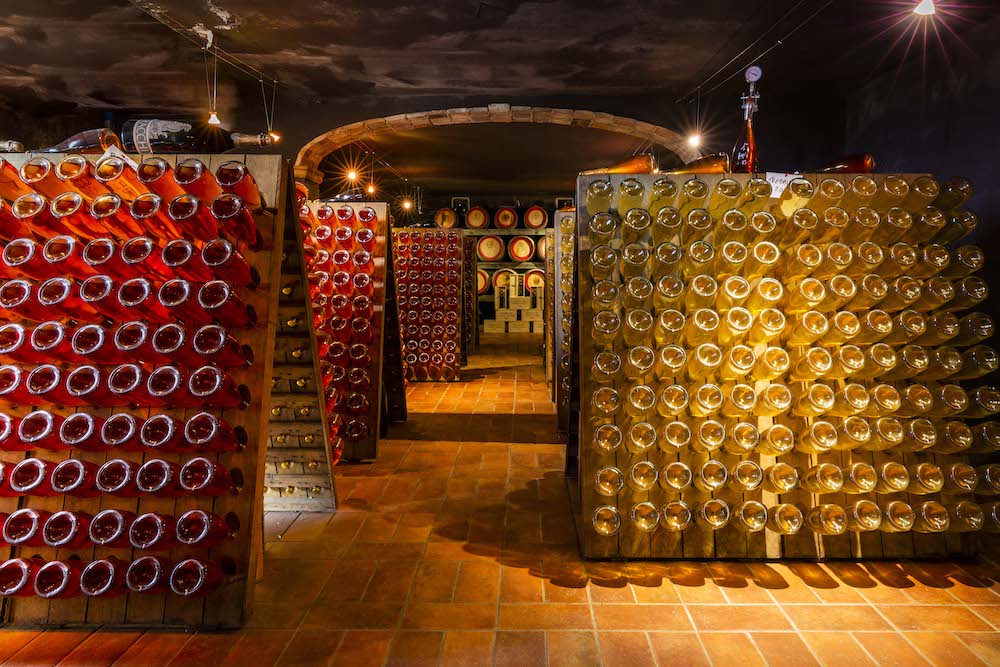 Cortona and its unique delights are memorable – wine tasting at the Baracchi Vineyards, cooking classes, e-biking or rent a Ferrari, yoga, art ….a panoply of choices! Silvia's cooking classes are amazing; a must with a professional kitchen on site. Her book "The Red tastes of love" inspires all! Learning from Silvia is fun, unforgettable. Not a pizza lover, but I adored Silvia's relaxed Pizza cooking class at their Locando del Molino…memorable evening… my pizzas became in demand after !
In Cortona the Bottega Baracchi Restaurant is partly a wine shop, part restaurant. Wander Cortona with its amazing Piazza della Repubblica, impressive Basilica Saint Margaret and for all Etruscan lovers – the Accademia. So many delights. Nearby top discoveries include centuries old vineyards, ruins and lovely Lago Trasmento, plus Perugia, Montalcino, Montepulciano, Pienza. See the concierge for bookings.

Baracchi Wineyards
Five generations since 1860 Baracchis have been producing quality wines. Riccardo (sadly recently deceased ) created with his son Benedetto and specialist Stefano Chioccioli a modern company for today creating wines that mirror their terroir – 30 hectares Cortona DOC. Visits and tastings arranged for all guests. Superb 2023 success is their delightful new Brut Rose Metodo Classico – amazing sparkling rose wine from Sangiovese grapes-*****! So delightful on the palate – a great triumph! Grazie mille for this delightful addition to my cellar! My favorites are their sangiovese; their syrah is tops too.
As always with eyes on the future, Baracchi Wineyards is transitioning to organic farming inspite of issues due to climate change. The conversion continues so in two years no more chemicals in all Baracchi domain; obtain final certification granted while remaining respectful of family traditions.
Golf galore – Royal golf la Bagnaia, Ugolino, Antognolla
Il Falconiere has special relations with Toscana's top courses – historic Ugolino Golf Club near to Florence, and two Robert Trent Jones Jr. masterpieces – Royal Golf La Bagnaia Golf Club adjacent to Sienna and his lastest design Antognolla Golf Club near to Perugia.
Ugolino Golf Club
via Chiantigiana per Strada 3
50023 Impruneta – Florence – italy
Golf started in Florence in 1889 from the English who made a course on land of Princess Demidoff just north of the City. Finally in 1934 Ugolino's layout opened in these undulating Chianti hills – Golf Club dell'Ugolino Florence's great test. In 1940 the Ist Italian Open was played here; Bernard Langer beat Ballesteros and Sandy Lyle for the 1983 Italian Open Victory in a historical final! Some of Italy's most illustrious golf history has been written here or by Ugolino's greats. Current Director of Golf Federica Dassu is just one of many Italian greats here. A classic layout with incredible views of this magnificient region, Ugolino's hilly fairways and undulations ; excellent cuisine and the perfect 19th Hole! A par-72, stretching 5672 meters of dog-legs and testing unduations, magnificent pines and Cypresses add dimension to the track. One's A game is essential to score. A complete pro-shop, rental and locker facilities are provided for guests.
Reservations essential.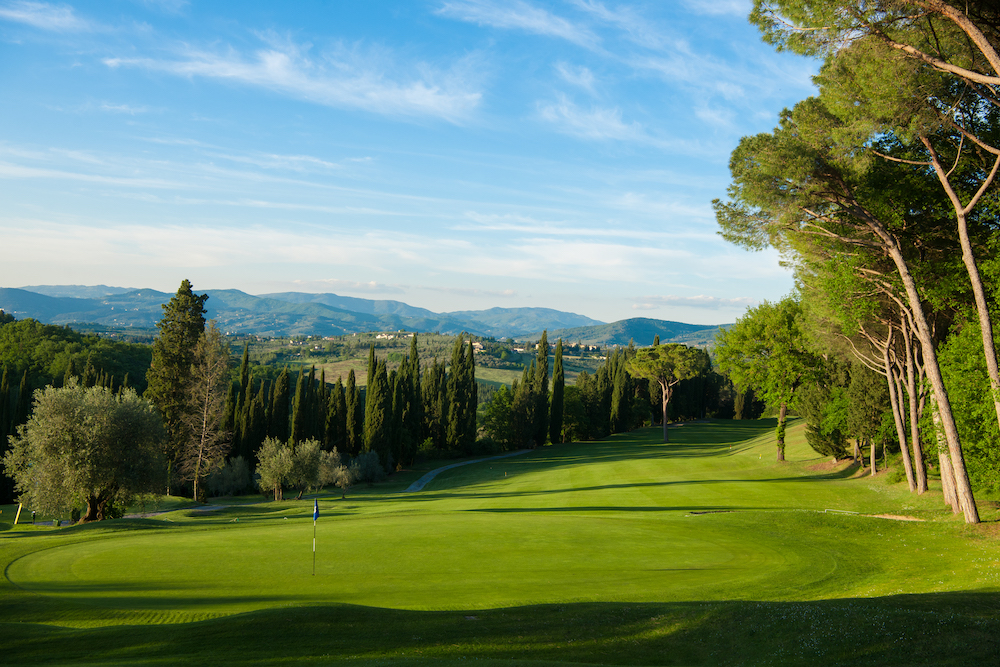 Royal golf la Bagnaia
SS 223 Siena-Grosseto km 56
53016 Localita Bagnaia, Siena – Italy
Near to Siena – this was Robert Trent Jones Jr's first design in Italy— more top layouts followed this superb course where one sees all 18-holes from the breathtaking Club House with its vast panoramas. Some feel it's an "Inland links", the undulating terrain with its well-positioned lakes dampen this reference. Jones having flown it to meet the owners was impressed; he even penned one of his poems on this to the lovely owner – see Robert T. Jones Jr "Poetry & Grass.com". This incredible property is enchanting with stables, natural spa source and facilities, and its charming historic Borgo.
Part of the IMG world of top golf properties Royal Golf La Bagnaia is perfectly managed by Scotland's Martin Shaw arriving recently from Castiglione del Bosco after other clubs. A true professional…he works closely in these difficult times with all the team to maintain top playing conditions for all. He has achieved wonders in spite of the temptous spring elements. So much rain- I was washed out!
Undulating terrain with water hazards test everywhere…Electric trolley suggested. Even with the inundations the greens were tops. The 4th tests..adored the challenging left dogleg par-5 7th with water leading to the green ! On the back the 13th is amazing ! The par-3 14th downhill is breathtaking. Birdie time ! Plus the heavily bunkered par-3 17th challenges; hit it straight. The 18th is a tester – uphill ! Win the match before…as 18th requires ones best shotmaking and club selection. The 19th Hole is sensational – superb terrace and views, great wines, top service, selections, wine cellar.
Club Rental, Locker facilities and Pro-Shop meet all needs.
Royal Golf La Bagnaia has some of Italy's best training facilities – driving range, immense short game areas, putting facilities plus bunkers galore. All perfectly maintained. Pro's await to assist and improve technique…Top Italian Federation pro Alessi Bruschi works with all clients plus top LPGA talent.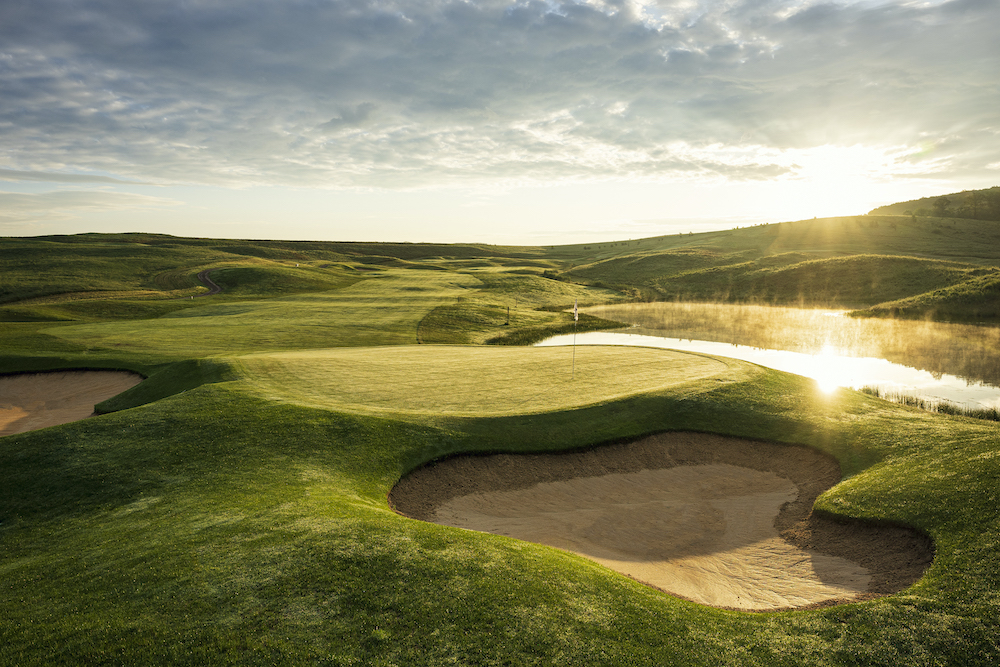 Antognolla Golf Club
strada San Giovanni del Pantano.
06133 Perugia – Italy
Perched high above this superb Robert Trent Jones Jr layout is this majestic Castle overlooking the challenging par-71, 6112 meters of hilly layout. A challenge with lots of strategic bunkering designed by Robert Trent Jones Jr. He shared "so amazing this land in the shadow of the Castle, so verdant, testing. We tried to build tees, promote play with all these superb views, with fair conditions yet testing all." Dating to the 12th Century Agnonolla's family the castle was dominant with its chapel housing the remains of Ercolano- Perugia's Patron Saint. "In "Italy's green heart" one is a quick two hours to Rome less to Florence's attractions.
Warm up on their expansive driving range… the walk up helps prepare for the challenge. The par-5 sixth tests all one's shots…relax the seventh is downhill par-4 325 mts. A Birdie on the eight was a delight on this downhill par-5; play left off the tee. A great par-3 the ninth…the back tests with more hills but great views! Photo op on the 17th tee! Smile and birdie might await! Water and rolling fairways are prevalent on the last! Stay left off the tee…and don't miss the green right on approach. Relaxed 19th hole —smiling service with superb Umbrian pasta and wines – Saluti. Putting green adjacent for those who need to practice… or recoup their losses! Grazie mille Cesar and team !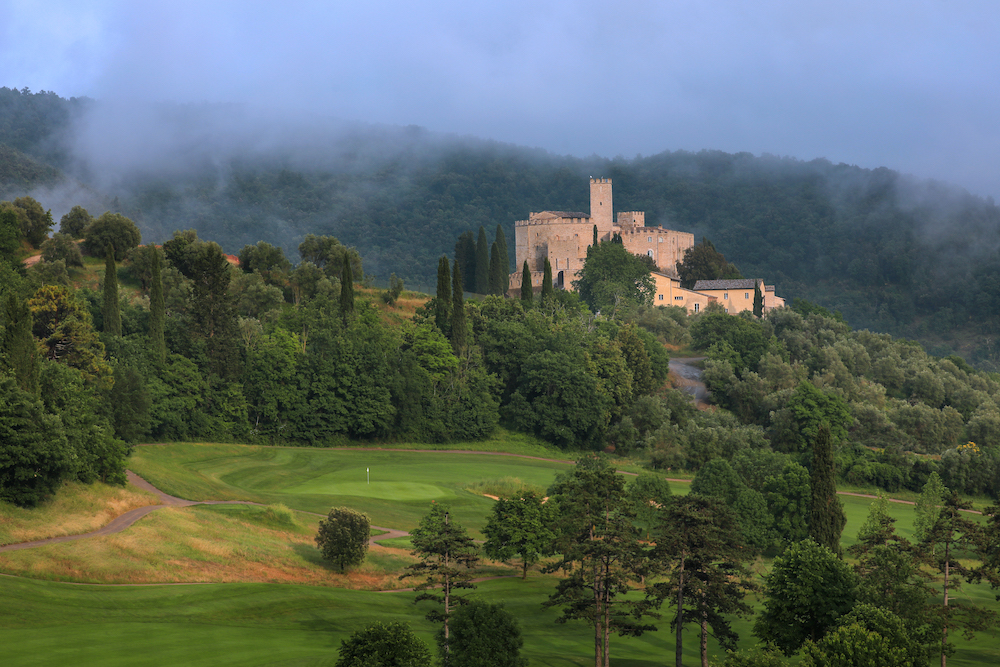 Susanne Kemper, Golf trotter Reporter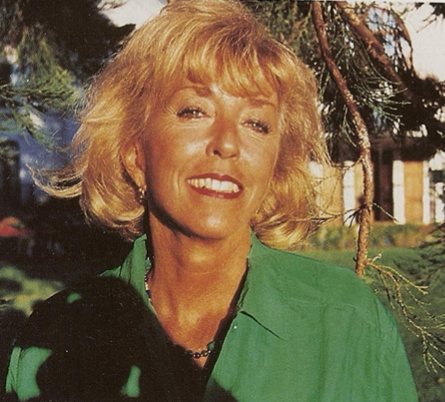 @photos, compliments of Il Falconiere and golfs Royal Bagnia, Ugolino Golf Club, Antognolla Golf Club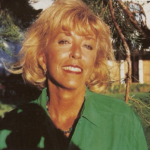 Susanne Kemper
Susanne Kemper has covered the US PGA Tour's West Coast swing and key events, DP European Tour's events, Ryder Cup since Valderrama, WCG, British Open, US Open, plus South African, Latin American, and Australian Major tournaments for 20+ years and numerous LPGA, LET and Solheim Cups.