Golf courses in Normandy-France
discover EACH service and equipment of all golf courses in Normandy
9 Holes ? 18 holes ? Dinner ? Hotel ? Golf Académy ? carts ? club rental ? Spa ? Pool ? Hammam ? ….Find them quickly and easely with more of 245 criteria, exclusively on https://www.golfstars.com/

Golf courses in Normandy are divided in 2 regions. Upper Normandy and lower Normandy. With a total of 49 golf courses in 2017 ( golf courses, compact, practices…), it is one of the preferred touristic destination of France. The climate is mild and the fairways are always green!
The charming city of Deauville, beautiful scenery, with many golf courses nearby is only 2 hours away from Paris. The cliffs of Etretat and the d-day beaches also offer many golfs and plenty to see while you're there. Great climate, excellent food and the quality of the greens are to be experienced all year long!
Find all the golf courses rated from 1 to 5 stars below and plan your next trip in Normandy-France with golfstars.com, the ultimate directory of golf courses in France.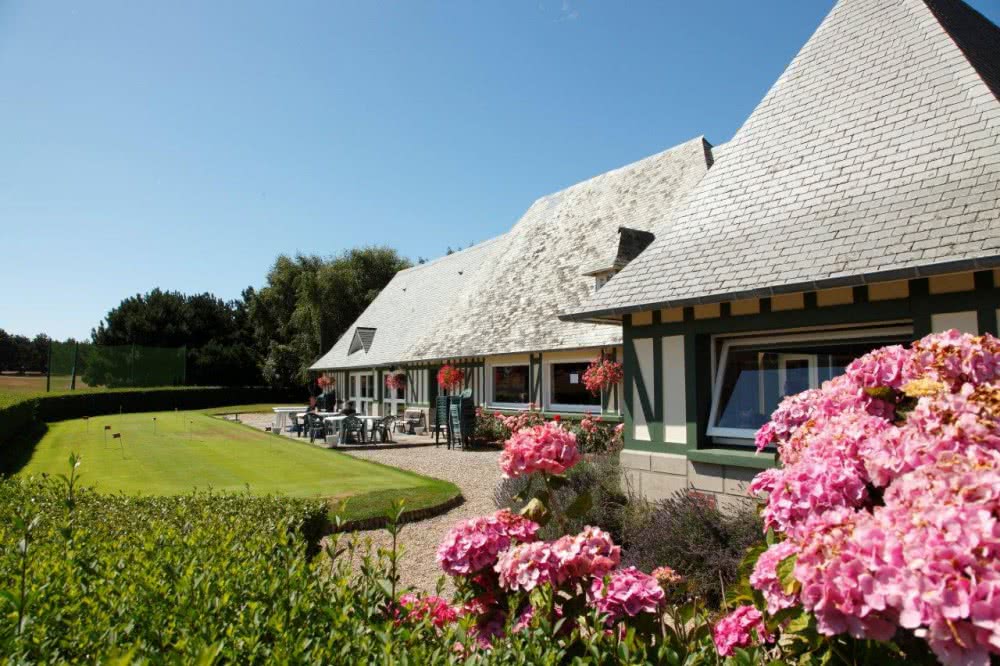 ---
The 49 golfs in Normandy
76 - Seine-Maritime

Category Golf 9 holes

Par : 60, Average rates : 22 €

61 - Orne

Golf 9 holes

Par : 33, Average rates : 17.5 €

76 - Seine-Maritime

Golf 9 holes

Par : 36, Average rates : 35 €

14 - Calvados

Golf 18 holes or +

Par : 71, Average rates : 89 €

14 - Calvados

Golf 18 holes or +

Par : 72, Average rates : 55 €

14 - Calvados

Golf 18 holes or +

Par : 71, Average rates : 95 €

61 - Orne

Golf 18 holes or +

Par : 72, Average rates : 47.5 €

76 - Seine-Maritime

Golf 9 holes

Par : 35, Average rates : 26.5 €

50 - Manche

Golf 9 holes

Par : 31, Average rates : 28 €

14 - Calvados

Golf 9 holes

Par : 36, Average rates : 27.5 €

14 - Calvados

Golf 18 holes or +

Par : 69, Average rates : 55 €

14 - Calvados

Golf 18 holes or +

Par : 72, Average rates : 54 €

14 - Calvados

Golf 18 holes or +

Par : 70, Average rates : 70 €

27 - Eure

Golf 9 holes

Par : 37, Average rates : 29 €

50 - Manche

Golf 9 holes

Par : 36, Average rates : 31 €

27 - Eure

Golf 18 holes or +

Par : 72, Average rates : 62.5 €

50 - Manche

Golf 9 holes

Par : 36, Average rates : 30 €

14 - Calvados

Golf 18 holes or +

Par : 73, Average rates : 42 €

50 - Manche

Golf 18 holes or +

Par : 67, Average rates : 48 €

50 - Manche

Golf 18 holes or +

Par : 68, Average rates : 48 €

14 - Calvados

Golf 18 holes or +

Par : 72, Average rates : 55 €

76 - Seine-Maritime

Golf 18 holes or +

Par : 70, Average rates : 69 €

76 - Seine-Maritime

Golf 18 holes or +

Par : 72, Average rates : 77 €

61 - Orne

Golf 9 holes

Par : 34, Average rates : 30 €

27 - Eure

Golf 9 holes

Par : 35, Average rates : 27 €

27 - Eure

Golf 18 holes or +

Par : 72, Average rates : 43 €

50 - Manche

Golf 18 holes or +

Par : 72, Average rates : 72 €

14 - Calvados

Golf 18 holes or +

Par : 71, Average rates : 54.5 €

76 - Seine-Maritime

Golf 18 holes or +

Par : 72, Average rates : 53 €

14 - Calvados

Golf 18 holes or +

Par : 73, Average rates : 60 €

27 - Eure

Golf 9 holes

Par : 29, Average rates : 21 €

76 - Seine-Maritime

Golf 18 holes or +

Par : 72, Average rates : 38 €

27 - Eure

Golf 18 holes or +

Par : 72, Average rates : 52.5 €

14 - Calvados

Category Golf 9 holes

Par : 20, Average rates : 10 €

76 - Seine-Maritime

Golf Pitch & Putt

Par : 54

76 - Seine-Maritime

Practice

76 - Seine Maritime

Golf 18 holes or +

Par : 72, Average rates : 59 €

27 - Eure

Golf 18 holes or +

Par : 72, Average rates : 70.5 €

27 - Eure

Golf 9 holes

Par : 32, Average rates : 20 €

50 - Manche

Golf 18 holes or +

Par : 72, Average rates : 47 €

76 - Seine-Maritime

Golf 18 holes or +

Par : 72, Average rates : 45 €

76 - Seine-Maritime

Golf 18 holes or +

Par : 70, Average rates : 67.5 €

76 - Seine-Maritime

Golf 9 holes

Par : 34

50 - Manche

Golf Pitch & Putt

Par : 27, Average rates : 15 €

76 - Seine-Maritime

Golf 18 holes or +

Par : 71, Average rates : 72 €

14 - Calvados

Golf 18 holes or +

Par : 71, Average rates : 43 €

76 - Seine-Maritime

Golf 9 holes

Par : 30, Average rates : 18 €