2023 Ryder Cup Preview
- Golf tournaments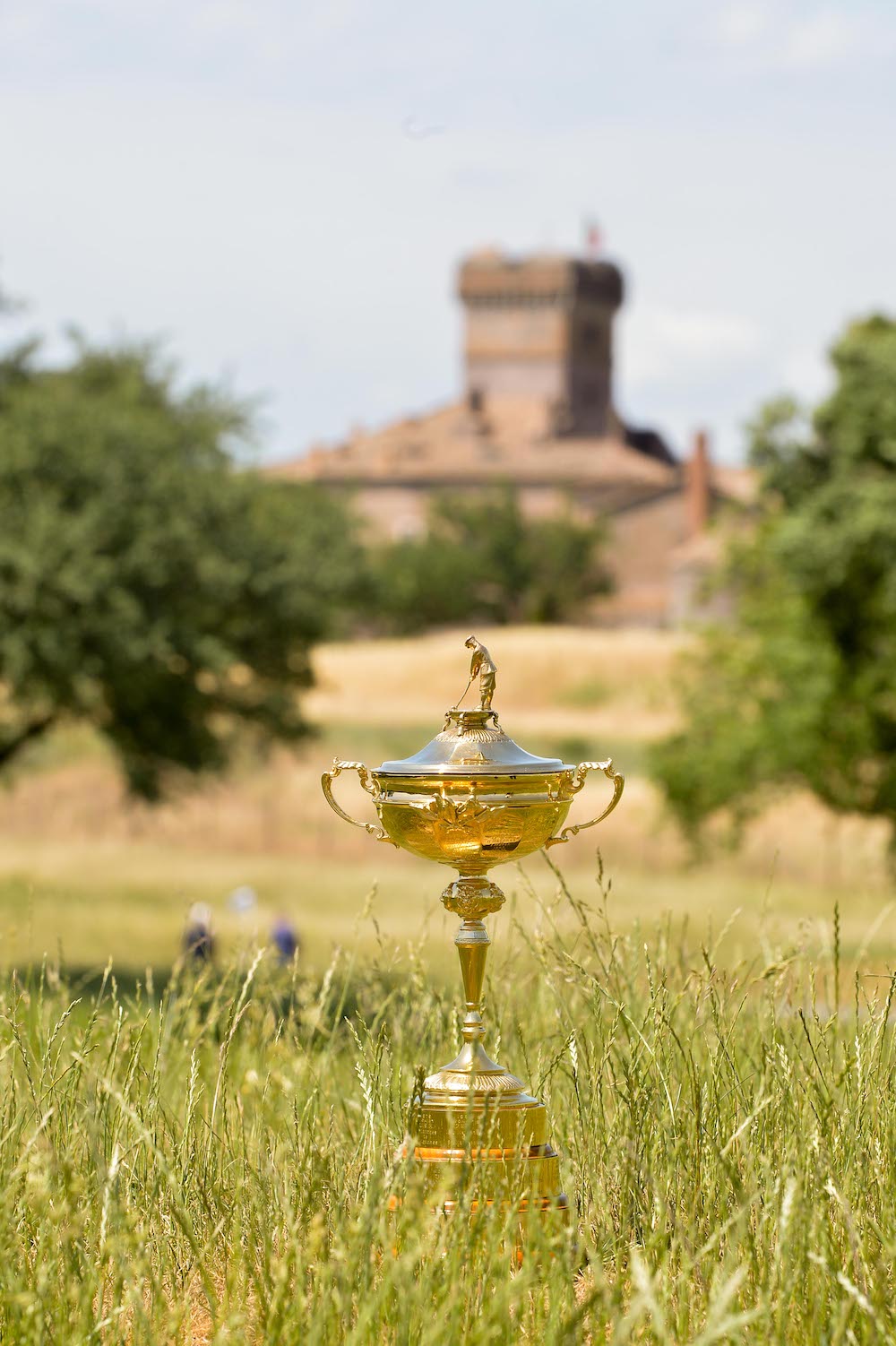 Italian Flair with Roman Discoveries Galore…
Ryder Cup 44th Matches, September 29- October 1, 2023
Intriguing Italy's history and superb discoveries await around Rome's seven hills enticing all. Rome's Marco Simone Golf and Country Club surprised the golfing world winning the 2023 Ryder Cup in 2015 defeating Spain's PGA Catalunya, Berlin's A-Rosa Faldo course, and Austria's Fontana Golf Club just miles south of Vienna. Originally scheduled in 2022 Matches were postponed by Covid to 2023.
Marco Simone Golf and Country Club owned and developed by the Biagiotti family – Laura Biagiotti, revered fashion designer and her husband Gianni Cigna. A mere 12 miles from Rome's famed Colosseum, St. Peters and the Vatican, Marco Simone had only hosted the European Tour's 1994 Italian Open.
Rome is a spectacular site for the 2023 Matches adding "Ryder Cup Gladiators" to its centuries of gladiatorial history. With archelogical treasures to be discovered everywhere, elegant evenings for dining, entertainment galore, plus shopping a go go – Rome enchants. 2022's Italian Open golfers were unanimous from World No 2 Rory McIlroy to European Captain Luke Donald – a treasure chest of delights to enjoy, inspire – "our fans will enjoy the best". Plus the redesigned course, offers amazing fan viewing areas.
Sporting events unite this continent, particularly one with a network of rivalries as old and as dense as Europe. The Ryder Cup, for millions of Europeans, this contest with the Americans has provided a biennial reminder of competing together, creating exciting team dynamics.
History with the Cup's evolution betrays its origins, The Matches started between Great Britain and the USA. In 1983 they were enlarged to include players from European countries. Only twice previously has a European home Ryder Cup been held outside the UK. In 1997, Spain's Valderrama Golf Club was the scene of a narrow European win under famed Severiano Ballesteros' dynamic leadership 14 1/2 to 13 ½; then, the 2006 Cup at Ireland's magnificent K Club Resort provided a more comfortable 18 ½ – 9 ½ European victory, and finally Paris' jubilation at the 42nd 2018 Matches – Le Golf National***** – Europe 17 ½ to 10 ½. Europe also prevailed at UK's Belfry 2002 Matches and Scotland's Gleneagles in 2014 adding the their winning ways. 2021's Matches at USA's Whistling Straits Golf Club, Wisconsin were a landslide for the youngest US team in Ryder Cup history with US's 19-9 victory.
Italy's Bid
"It was, at the beginning, a kind of a crazy idea," says International Golf Federation board member Marco Durante, Italian Golf Federation (FIG) member. "And day after day, week after week, we've been growing our potential." With the European Tour's preference for non-UK hosts, the way for nations like Italy was opened. FIG president Franco Chimenti pursued actively, supported by expertise from IMG. "Arnold Palmer also provided a letter of support emphasizing the strong Italian-American community," added Durante.
"It was definitely an extraordinary opportunity for golf," said Lavinia Biagiotti, President of Marco Simone Golf and Country Club. "It's a great opportunity for Italy too. This means it's a whole country. We're thinking of it as big as the Olympics. This is why the president of the Olympic committee (CONI) is joining us and our presentation."
Biagiotti stressed, "We are a private golf course owned by a family of entrepreneurs, which is another Italian story. This golf course was built by my family in the 80's when golf was exploding in Italy and then the market shifted," Biagiotti recalls. "It was a huge project with 27 holes. It's still the biggest clubhouse in Europe, over 7,000 square meters. It was made for something big to happen here." The revised 18-hole Championship 2023 Ryder Cup Course hosted the 2021 and 2022 DP World Tour Italian Opens. The Ryder Cup course generated positive feedback with players approving the test of the new layout, the amazing work on the greens.
Winning the Bid….
Biagiotti and her team had delightfully whisked officials around Rome's many famed attractions – Pantheon, Catacombs, Trevi Fountain; proving from Rome's center officials could quickly arrive at Marco Simone in 15 minutes. They fostered programs – cooking, art, visits – to make golf fun. Biagiotti also created speedy play for "Green Widows" – wives, partners left behind. She launched 12-hole competitions in spite of members' displeasure; and massively committed to grow the game throughout her beloved Italy with the Italian Golf Federation and Olympic Committee's support and approval.
A first ever too, a woman winning the site bid for The Matches. Crowded into the Italian Golf Federation's offices awaiting the selection telephone, the room was packed with supporters. The suspense was palpable ! When the call came, Biagiotti was on the opposite side of Federation President Chimenti's desk. She had to crawl under his desk to get to the phone to accept "The Matches" nomination.
Cheers, shouts, singing…joy, surprise, overwhelmed all present with this call. "It was such a long road, so much to learn, do, commit, plus hosting visits, then presenting our bid April 15th. We did our best, we couldn't have done more," Lavinia said before the call. "It was tough, all men, so much tradition, closed circles of power and old attitudes. My father's motto from Ronald Reagan kept me going 'It can be done'." She pursued the Ryder Cup as a tribute to her father's "Green Dream" in building Marco Simone with her Mother's love.
Marco Simone Golf and Country Club, Rome
"Marco Simone Golf and Country Club is the largest green skirt I've ever designed," confirmed Laura Biagiotti. A family affair this creation after her years of driving past, when finally she and husband Gianni Cigna bought it for their family home.
A successful dressmaker Laura's mother – Delia Soldaini Biagiotti – designed Alitalia's uniforms; in the '60's she started the family business in 1965. Laura helped during her archeology studies at Rome University. Leaving her studies, she focused on fashion design working with her Mother before meeting Gianni Cigna, her future husband, who she joined in business opening a store in Florence. Born in 1943, Laura rose quickly seducing all with her 1972 fashion show. Becoming one of Italy's top fashion names – House of Biagiotti – couture caters to women, men plus elegant accessories, perfumes, watches. Laura was the first Italian designer to present a collection in China with 30 Chinese models and also initiated unique innovations with Russia in 1995 – all her initiatives were applauded. Global awards flowed throughout the years – even a Euro stamp from Italy. Also, Lavinia represented her Mother in Moscow for her award sponsored by Mikhail Gorbachev.
A Roman fortified manor farm, the tower was constructed in 1000. "The restoration of Marco Simone's castle," Biagiotti said "was like a madness that took me. It was a pivotal choice in my life at 35; living and working in the countryside, taking personal and professional commitments, coupled with my passion for antiques and the research of costume." Renovating the Castle for their home was a "coup de foudre". Installing her fashion headquarters there, their "Green Dream" had commenced; they executed it in collaboration with the Fine Arts Commission – the Castle became a national monument.
Cigna was the Group's chief strategist for business expanding into China and Russia, establishing boutiques and close ties culturally. Fortunately during my visits, I was lucky to meet with Laura – the Queen of Cashmere. Once at an archeological site on their property where she kindly shared her passions – golf, archaeology, fashion.
Gianni and Laura expanded their "Green Dream" in 1989 building Jim Fazio's 18-hole championship golf course, par-72, 6937 yds, 140 slope, with an adjacent 9-hole resort course (2250 yds), driving range, pitching facilities. Building Europe's largest Club House with swimming pool, members found five star amenities off the course too.
Biagiotti passed away unexpectedly in May 2017 at 73. In 2019 the preview of a documentary "Laura Biagiotti – The Aura of Fashion" was presented at Rome Film Festival.
Lavinia Biagiotti Cigna, Laura and Gianni's only child, was born in Rome on October 12, 1978, her Grandmother's birthday – Laura's birthday present to Delia. Laura missed a Fashion Show for the first time! Lavinia is the third generation of the family business. Completing her classical studies, after the early death of her father Gianni, at 18 she joined her Mother at the Biagiotti Group.
Lavinia shared that she had wanted to be a doctor growing up but couldn't with her Father's early demise. Another interesting insight – she frequently joined her Mother and all the seamstresses, team for lunch when she was home from school, hearing all their stories, talk.
"My parents ran the Group together, he the manager and she was the creative side. I couldn't imagine her alone, it was instinctive" Lavinia says, "and a winner." Her Mother's passing was a "bolt from the blue." To overcome the pain, she plunged into work immediately and was on the catwalk again with a "Greener" feel in September.
Energetic, Roman, proudly Italian, she is dedicated to expanding Italy's image, economy not only with the Ryder Cup but through the Biagiotti Group, plus her various business and charitable activities. At Philadelphia's Jefferson University, Biagiotti enhanced connections between style and culture with her "Italian Story-Three Generations of Women Designing the Future" presentation. Charitable contributions are numerous – from the funding of a new curtain for Venice's La Fenice Theater to fundraising. Awards from KORE Fashion Oscar, to 2019's Italy's Order of Merit are some of Lavinia's accolades.
As President and CEO Marco Simone Golf and Country Club, she has been very occupied with preparations, the course renovation for 2023. Covid complicated course renovation; fortunately the Matches were delayed. Building the team to manage the Ryder Cup festivities from greens staff to personnel was key. Recruiting talented Le Golf National's Lara Arias as Chief Greenskeeper was a success; she has already made huge contributions.
The 2023 Ryder Cup Course
The original 1991 course by Fazio and David Mezzacane was foreseen in Italy's Ryder Cup bid to be redesigned for the 2023 Matches. European Golf Design, which was involved with both Paris' Le Golf National and Wales' Celtic Manor courses, was the likely selection for this project with its top team in 2018. Experts from various areas were involved focused on creating a course suited to match play golf and allowing the property to welcome large crowds for viewing. Trimming work allowed views to be opened on the Castle, old Casali buildings, olive groves, nearby villages, and the amazing Rome skylines particularly from the back nine. During course renovations archaeological discoveries were encountered close to the 12 and 13th holes; thus work was re-routed on some of the back nine holes to avoid disturbing these finds.
Stretching 7300 yds the course re-design enhanced views and drama, building to a climax point for matches on the back nine. All the par-5's are currently reachable in two. "Risk & Reward" holes are critical for The Matches for spectators and excitement. Some interesting challenges are presented – the fifth on the front nine if the tee is moved up and the par-3 seventh -219 yds- with its amazing "elevator" drop from tee to green of 40 feet.
On the back nine the new layout showcases drama perfectly on the 11, 12, and 16th ! A short drivable par-4, the 11th challenges all. A superb view of Rome from the 12th tee to green wows but one must be attentive to the elevated green's diabolical contours. The 16th is unforgettable not only for its view of Rome but its challenge and will be critical …a downhill par-4 with water lurking greenside – bunkers protecting on the left to a multi-sloped green – sensational risk and reward ! Spectators will love the viewing and excitement from the 11th, the 12th green, the par-3 13th, 15th green and memorable 16th tee overlooking all. The spectacular downhill par-5 18th should be the perfect finale for drama as seen in recent 2022 Italian Open play-offs…
Hosting in September 2021 the Italian Open on the newly designed terrain, brought success followed by 2022's Italian Open with the course more mature, the rough very testing, and the green's quality enhanced.
Discussing the course's evolution, Greenkeeper Arias is pleased with the fescue in the rough, its playability with added fertilizer and their higher cut this year. It got vocal reaction galore. Smiling she stressed, "With the heat this year and later tournament date, the rough's growth had greater density. We changed some lines on five holes. Perhaps a few more changes for next year, with the Open in the Spring, and of course, Captain Donald and his team's inputs. So happy the new 18th tee is a success too." The new driving range opened in 2022 to the applause of all players – amateurs and pro's alike. Plus enhanced short game areas for chipping, putting were created.
The Club House will host perfectly the teams and facilities needed for the Matches, being decorated by Ryder Cup Europe per tradition.
2023 Junior Ryder Cup Matches Innovation
2023 Junior Ryder Cup "Finale" will be played Thursday on Marco Simone's Ryder Cup course – a first! Exciting new addition these 24 male and female amateurs (18 yrs) from US and Europe will play their finale Thursday for the enjoyment of all the Ryder Cup fans. Their first two days play with be at Italy's Golf National, Viterbo with the selected top amateurs (6 males, 6 females per team) competing in classic Ryder Cup format Thursday – a new experience in 2023.
"YEAR TO GO" Celebrations (October 3-6, 2022)
2023 European Ryder Cup Captain England's Luke Donald returned to Rome for kick-off events for The 2023 Matches at Marco Simone joined by US Captain Zach Johnson on his first Rome visit. Festivities included "Captain's Challenge" golf at Marco Simone, golf at the Coliseum, a gala dinner in Palazzo Collona, press conferences, and meeting Pope Francis at the Vatican.
Former World No. 1 for 56 weeks and the first player to top the US and DP World Tour rankings, Donald played the 2022 Italian Open over the testing new Marco Simone course mid-September. With four critical victories in four Ryder Cup appearances Donald's record is amazing – always on a winning team coupled with stunning play in 2010 at Celtic Manor winning over Jim Furyk. 2012 Medinah's halved with Tiger Woods in the lead match creating the momentum Europe needed generating "Blue" – leading to their greatest ever comeback -"Miracle of Medinah". Donald was a European Vice Captain with Thomas Bjorn and Patrick Harrington.
Major winner 2007 Masters and 2015 Open Champion, US Captain Zach Johnson discovered Italy and Rome's attractions – including gelato ! "My first trip – the culture, the food – its mind blowing." Johnson was impressed "with the Juniors and their game, hitting balls at the Coliseum, the Vatican, all – this City is special. I can't wait for September and the Matches".
With over 300 children participating Monday, the "Captains Challenge" at Marco Simone's saw two teams of elite youth from the Italian Federation plus four members of the Elite Disabled team compete in a four hole challenge over the 1st, 16th, 17th, and 18th. A tie resulted. The famed frescoed Palazzo Colonna in the heart of Rome hosted 200 for dinner elegantly closing an exciting day for all.
Tuesday the Captains visited the famed Coliseum and Tempio do Venere e Roma admiring these Roman treasures. From a special matt installation, they hit and chipped golf balls at the Coliseum before hosting a press conference.
The Captains and their wives were most appreciative of their private meeting with Pope Francis at the Vatican. They presented him with a commemorative Ryder Cup inscribed "To His Holiness The Pope By Ryder Cup Captains Luke Donald and Zach Johnson". Johnson confided, "awesome, surreal." Donald felt humbled "with this special moment, visit." A perfect ending of three days of "Year to Go Events". Surprisingly Captain Johnson didn't throw coins at the Trevi Fountain…
The Ryder Cup is the world's third most popular sporting event—a not to miss in The Eternal City – along with its amazing attractions nearby – Tivoli Gardens with famed Hadrian's Villa and Villa D'Este, memorable Pantheon, bucolic Castel Gandolfo, Viterbo's Etruscan treasures – to suggest a few besides the Vatican and Colosseum.
All roads lead to Rome in 2023 !
Susanne Kemper
Crédit photos : Marco Simone Golf CC – Riccardo's images2022/8 – Valentina –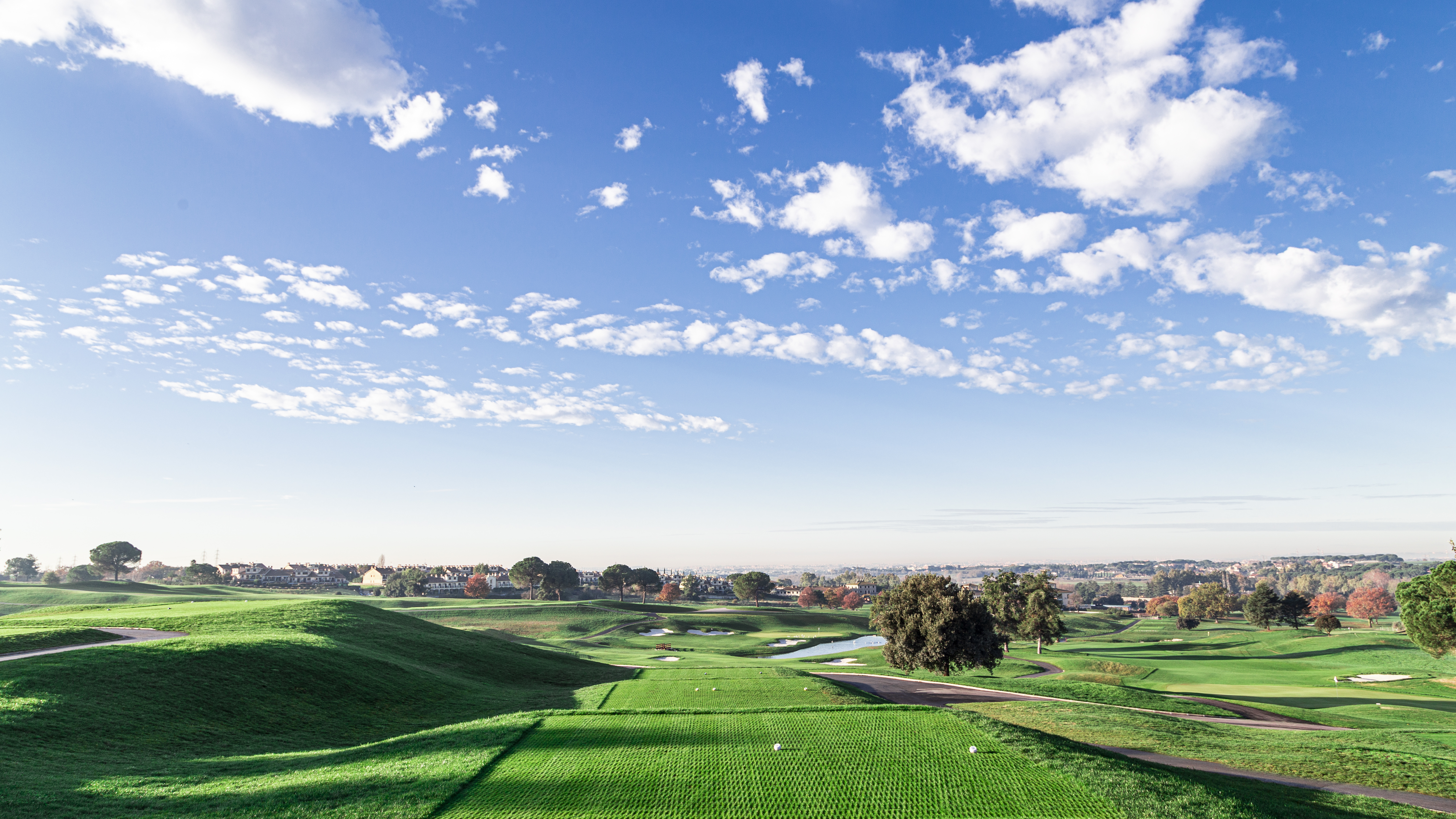 Marco Simone Golf Club, trou Numéro 16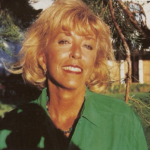 Susanne Kemper
Susanne Kemper has covered the US PGA Tour's West Coast swing and key events, DP European Tour's events, Ryder Cup since Valderrama, WCG, British Open, US Open, plus South African, Latin American, and Australian Major tournaments for 20+ years and numerous LPGA, LET and Solheim Cups.