I'm going to the Ryder Cup in France
- Golf tournaments
PREPARE A ZEN road TO THE RYDER CUP 2018 – NATIONAL GOLF
It's decided, I'm going to the Ryder Cup, I can't miss such an event ! Ticket in hand, it's now time to choose the easiest transportation, the most flexible, fastest, cheapest… or the more premium ! Golf Stars offers to be your guide.
FOOT…
You have several choices of transport to simplify your round trip from the Golf National. Pedestrian access at the Golf National will be impossible. You must Access the site via a shuttle which will drop you on the site.
BY PUBLIC TRANSPORT
The PASS travel Ryder Cup : there is agreement with our companies (RATP, RER,…) in order to deliver a pass to travel 7 days (from 24 to 30 September) for only €40. This pass travel 7 days will allow you to travel as you wish by train, subway or bus to Paris (all tariff zones) including with the airport Charles de Gaulle, Orly, the Gare du Nord and all TGV stations. This 7 days pass will be valid for all trains in and out of the stations of Saint-Quentin-en-Yvelines and Massy-Palaiseau. If you have opened an account ticketing Ryder Cup, nothing simpler: take your pass travel 7 days 2018 Ryder Cup on www.tickets.rydercup.com
A tip… prioritize mass transit, they will be your best ally to remain calm because they offer the certainty of a direct round trip to go to the National. In addition, you will have shuttles between the stations of Saint-Quentin-en-Yvelines and Massy-Palaiseau to join the site.
BY ROAD
Don't, you're going to waste your time and miss the show… There will be no public parking (in contrast to the HNA Open of France, which has parking around and in contact with the site of the National). It will only be allowed to park from a choice of 3 dedicated parking which will forward you in shuttles. Attention : the capacity of these areas is limited. However, you can go ahead and book your parking on www.tickets.rydercup.com
Available parking : PR2 in Orsay, the parking PR23 at Versailles and PR4 in Louveciennes. Parking rates : September 25, 26 and 27: €20. 28, 29 and 30 September: €40
For people with reduced mobility, parking will be dedicated to the front of the car parks PR2, PR3 and PR4. Contact rydercup@europeantour.com
BY THE AIR WITH HELIPASS
Enjoy your time, the Ryder Cup won't be back in France before a long time ! The ideal solution is to share with 6 people plus the pilote your coming in a certified twin-engine helicopter. You will be authorized to land at the airfield near the Golf National. Helipass and Golf Stars offers a special package to make your experience unforgettable :
Discovery Package : welcoming at 8 AM with croissants and coffee in a private lounge, visit of the site and the helicopters, discovery of the machines and explanations, gift Golf Stars and putting contest to win a prestige prize ! Then forward to the show on board and golf!
PRICE:  € 410 HT each transfer.  For more information, contact Helipass   + 33 (0) 1 40 60 40 00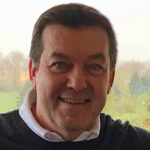 Stéphane COUDOUX
After 8 years at the Express news, I became a golf enthusiast and I now have 32 years of experience including 17 years at Golf Magazine and Golf Européen. Golf Stars is the exclusive web site classify all golf courses and their Services and Equipments. Independent, objective, honest and above all no first and last!